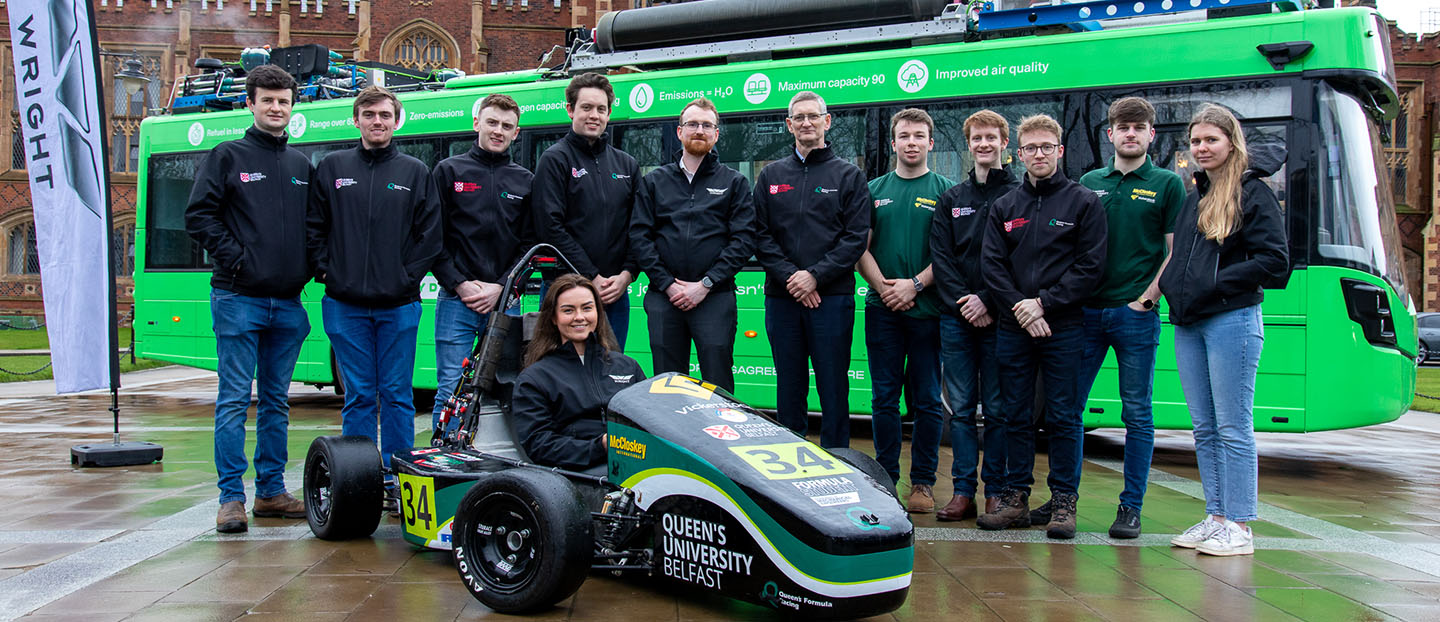 Leading bus manufacturer Wrightbus has teamed up with students from Queen's University Belfast by sponsoring a new electric racing car.
The Ballymena-based business has sponsored the single-seat vehicle which will be raced at the annual Formula Student competition.
The team will be racing the car at Silverstone Race Circuit in July and are targeting a top 10 finish from the 100 plus international teams entered.
The car was unveiled at a launch event held at the university on Tuesday, March 28.
It was joined by some of the Advanced Engineering team from Wrightbus and research staff from the Wright Technology and Research Centre (W-TECH) who have worked on the development of the vehicle.
Dr Andy Harris, Advanced Engineering Manager at Wrightbus, said: "Wrightbus are delighted to be sponsoring this year's fully electric Queen's Formula Student car and strengthening our partnership with Queen's University. 
"I see a lot of parallels in design philosophy with the QFS approach and how we build our zero-emission vehicles in Ballymena – both are built from the ground up with a real focus on energy efficiency, lightweighting and cost reduction without compromising on performance. 
"Our partnership will encourage a key pipeline of talent into the business, ensuring Wrightbus's next-generation of zero-emission vehicles remain on pole position."
Queen's Formula Racing (QFR) is a student-led team that designs, builds and races a single-seater car in the Formula Student competition. 
The team consists of engineering students from the university who apply their skills and knowledge to create innovative solutions for the challenges of motorsport. 
QFR was founded in 1999 by Dr Geoff Cunningham to provide high quality experience relevant to the automotive and motorsports sectors. 
Since then, QFR has produced 16 cars and won several awards at the annual competition for design and performance on the track. 
While all cars up to 2019 were based around a 600cc motorcycle engine, all subsequent designs have been based on a fully electric powertrain. 
Dr Cunningham said: "Queen's University has over 25 years' history of collaboration with Wrightbus that stretches back to the first battery-electric demonstrator buses produced in the late 1990s. 
"This collaboration continues through the W-TECH centre at Queen's that carries out advanced research for Wrightbus with a particular focus on the development of electric and fuel cell electric powertrains. 
"This collaboration between Wrightbus and QFR will provide invaluable technical assistance for the students as they develop their electric powertrains while also setting them up with the skills necessary for a career in the growing electric vehicle sector."