Streetdeck Ultroliner EU6
The StreetDeck Ultroliner EU6 was introduced in 2014 and has quickly become everyone's favourite way to travel. It offers the cleanest diesel engine in its class and strictly adheres to the latest EU6 exhaust emission standards. Whether in the UK or other overseas markets, with its ultra-low emissions which are even lower than EU6 requirements, it has set new sustainability benchmarks around the globe. StreetDeck can achieve this milestone due to lightweight materials and Micro hybrid engine technology. Our StreetDeck EU6 Ultroliner diesel vehicle remains the spearhead of the double deck bus market, proving to be a dependable and long-lasting alternative to traditional buses.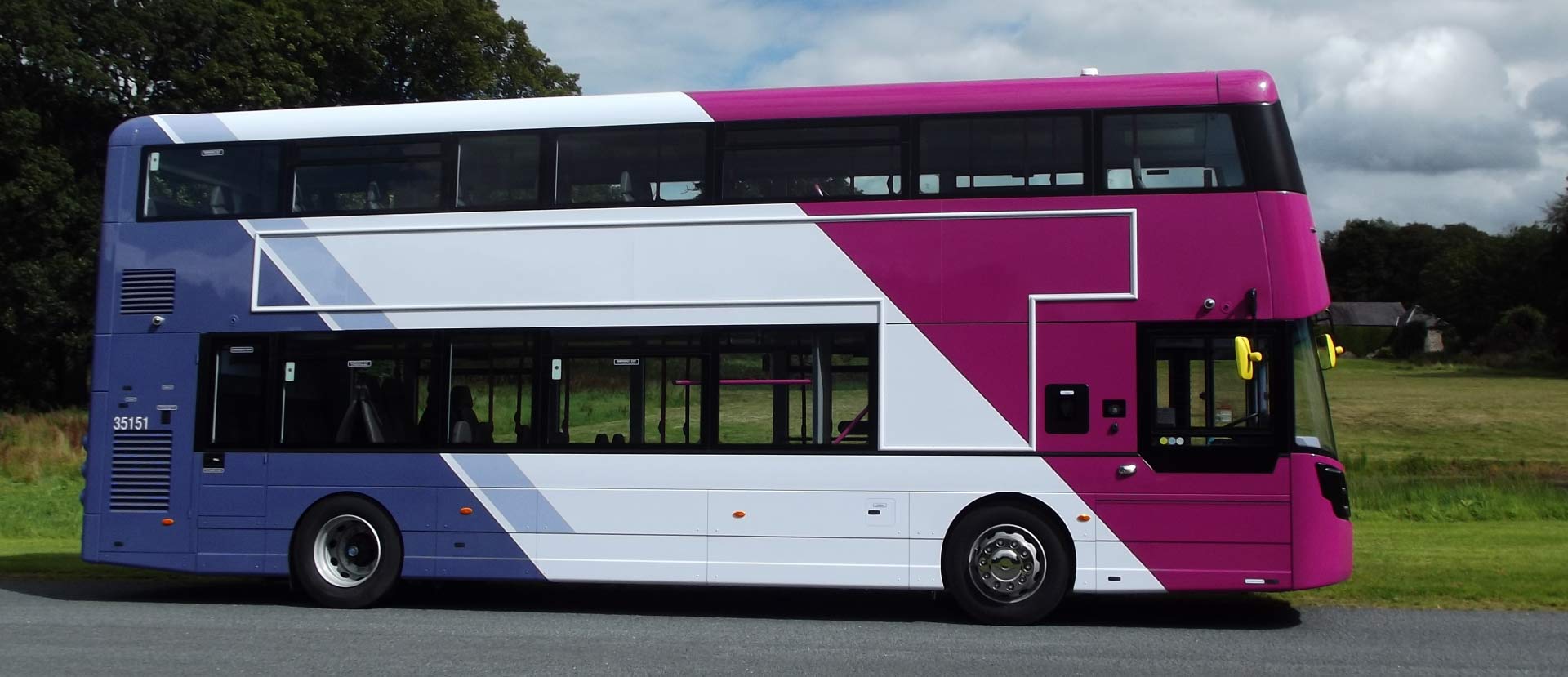 Powered by the Voith D854.6 4 Speed Fully Automatic Transmission and a large 245L fuel tank capacity, this StreetDeck is ready to go the distance, wherever the journey takes it. Its MH3 technology helps lower fuel consumption during frequent stops on busy roads and improves the overall footprint and ride quality. Where ultra clean diesel buses are seen as the only option at this time, there is no better bus than the low emission StreetDeck Ultroliner.
Go further with best in class features!

Go the distance
Up to 245L fuel tank capacity ensures longer, uninterrupted journeys.

Bring everyone together
Seat up to 100 passengers comfortably.

Rides get happier
Ride better with passenger salon air-conditioning, seat belts, USB points, etc.

Fueled for better
The transmission emissions strictly adhere to EU6 standards.
Maximum Capacity
Depending on specification choice, a maximum capacity of up to 100 can be achieved.
VEHICLE ACCESSIBILITY
1 or 2 door option available
Wheelchair compliant via electronic or manual ramp
GROSS VEHICLE WEIGHT
18600KG
Tyres
245 / 70R X 22.5 Tubeless Tyre
Choice of either Bridgestone, Continental, or Michelin
Seats
Esteban Civic V2/V3
AXLE & Suspension
Front – ZF RL 82 EC
Rear – ZF AVE 133
ENGINE
Daimler OM934 or Daimler OM936 Euro VI
Option of either 4 or 6 Cylinder
Displacement of 5.1L or 7.7L
Leading features and the cleanest in its class diesel transmission make for the perfect addition to any fleet. Ensuring passenger comfort and sustainability with the bus that people love, now made better. Due to the similar features and feel it shares with the new zero-emission Hydrogen and Battery Electric StreetDeck buses, Ultroliner is making the transition to zero-emission buses easier than ever before.
Everyone's perception of diesel-powered buses is changing all thanks to ultra-low emission buses. These buses, which are equipped with cutting-edge technology and comforts, will play a critical part in the future of the transport Industry. Additionally, ultra-low-emission buses will facilitate the transition to zero-emission transportation. As a result, we may conclude that the future of ultra-low buses is bright and promising.