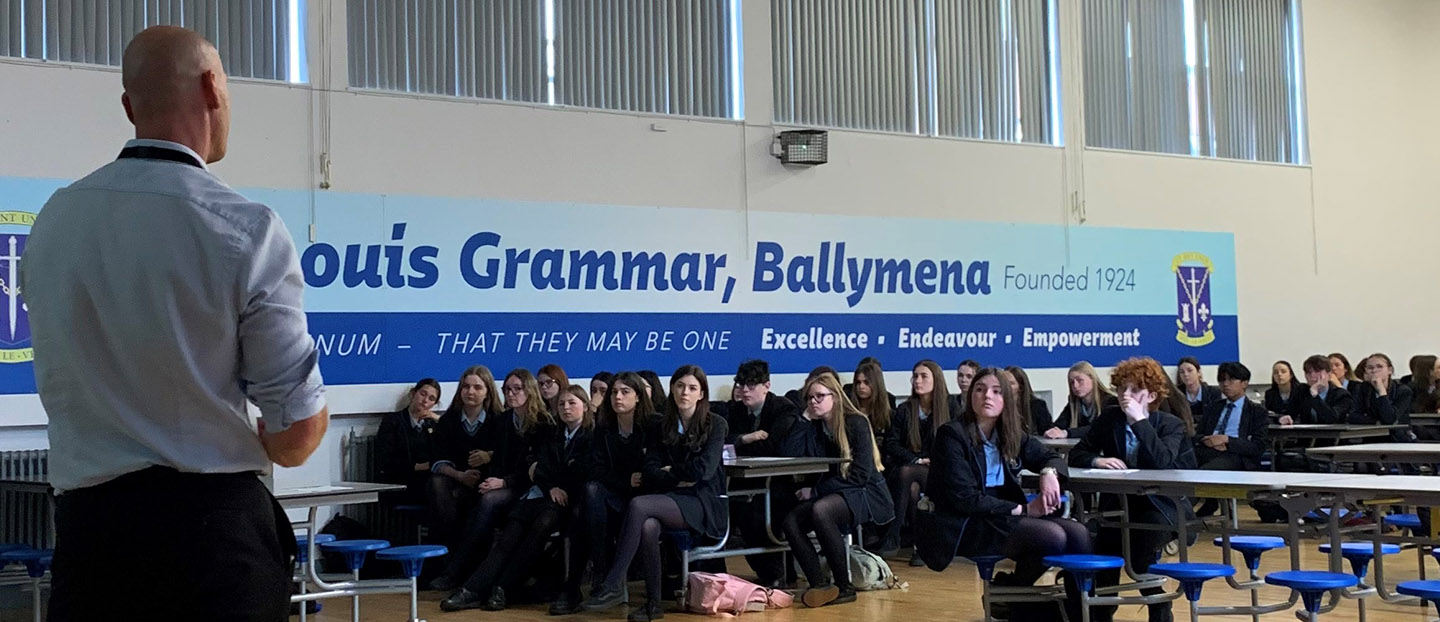 Leading zero emission bus manufacturer Wrightbus is continuing its commitment to help educate the next generation of engineers, hosting university students and school pupils at recent events.
As part of the company's continuing partnership with Queen's University Belfast through its W-Tech Centre, Wrightbus has teamed up with students from Queen's Formula Racing by sponsoring their new electric racing car.
The single-seat EV vehicle which will be raced at the annual Formula Student competition at Silverstone in July.
Dr Andy Harris, Advanced Engineering Manager at Wrightbus said the partnership would "encourage a key pipeline of talent into the business, ensuring Wrightbus's next-generation of zero-emission vehicles remain in pole position."
The university team recently visited Wrightbus headquarters in Ballymena to take a look at the manufacturing process behind our own battery-electric and hydrogen fuel cell vehicles.
Wrightbus also welcomed a group of Year 10 technology students from Cullybackey College. The group visited the factory to learn about the work being done in zero emission technology to help decarbonise public transport.
As well as looking around the factory, the pupils also learned of career opportunities available across the company, including apprenticeship programmes.
William Nelson, Performance and Development Manager at Wrightbus said: "I was extremely impressed with the group's enthusiasm for everything happening at Wrightbus and the career opportunities that are available on their doorstep."
The firm also hosted a group from St Louis Grammar School in Ballymena, at an event organised through Speakers for Schools. Members of the Wrightbus team shared the Wrightbus story, walking hundreds of pupils through its drive towards zero emission technology.
Laura Kerr, Performance and Development Officer at Wrightbus, said: "This was particularly special for me, as this is where I went to school and I was absolutely delighted by the enthusiasm from the students."
A-Level students from Ballymena Academy also visited Wrightbus, as part of the company's partnership with the school for the Sentinus Research Academy, a non-profit educational scheme to promote engagement in STEM subjects.

Teams had been tasked with work place scenarios – reacting to production line problems and transporting materials before visiting the factory to deliver presentations showcasing their problem analysis, idea generation and development of their proof of concepts.
Nicola McCloskey, HR Director at Wrightbus said: "We take our corporate social responsibility seriously and our work with local schools and universities is a key element of this.
"We provide a range of initiatives from school visits and factory tours to apprenticeship events, work experience and work placements.
"We are passionate about providing pathways into as many career opportunities as possible. We believe that nurturing the considerable talent we have locally is key to the continuing success of our business."