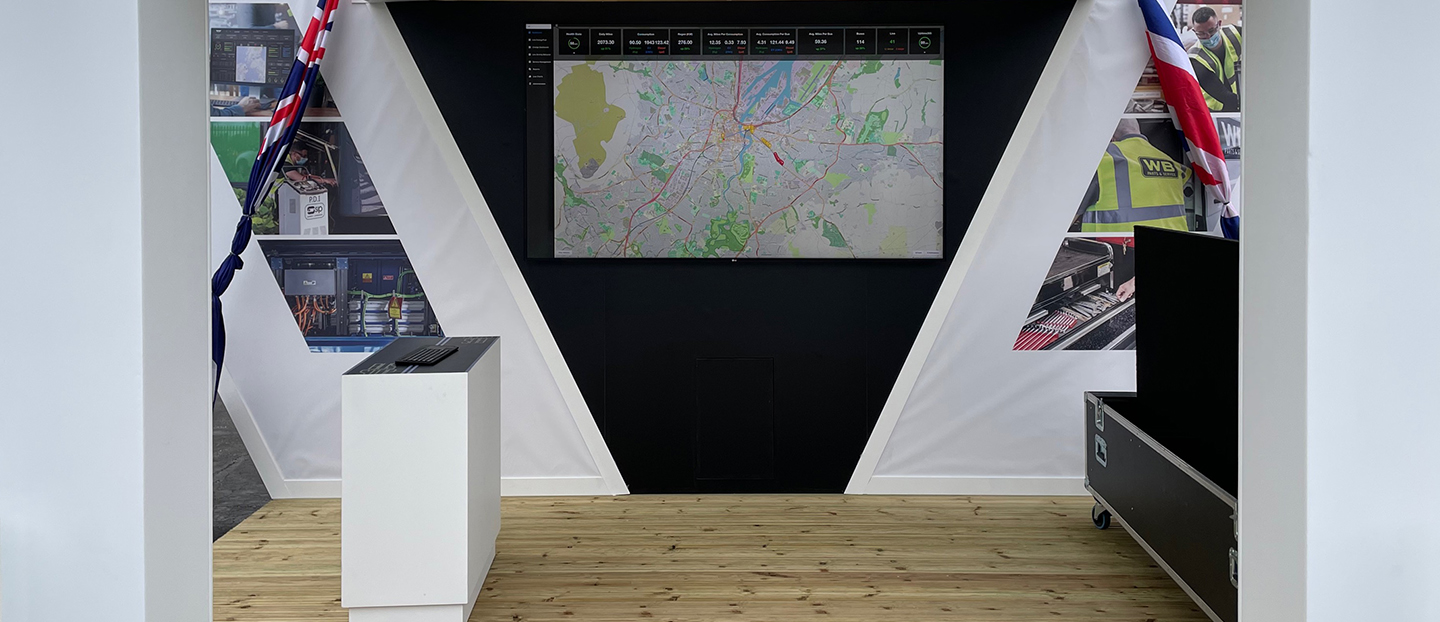 Predictive fault reporting and intelligent AI that can now predict component failure on buses are just two of the additional features now offered by the pioneering telemetry system launched by Wrightbus last year.
WB UPTIME 365, which was launched at the ITT Hub show in Farnborough in 2021, was created to provide real-time feedback on performance, maintenance and even CO2 savings.
Capable of working across the bus sector as well as other sectors, WB UPTIME 365 is a single sign-on system that can monitor and improve uptime on new EV and Hydrogen products, as well as new and old diesel products up to 15 years old.
Monitoring over one million data lines each day, the system has already allowed operators to manage and utilise their fleets more efficiently, enabling all Wrightbus models to stay at peak performance for longer, communicating with control rooms at the touch of a button via a staggering 5,000 thresholds and sensors.
But the service has now improved thanks to a host of new features, including Live Energy Dashboards and an innovative machine-learning AI system.
Aiding drivers of both zero-emissions vehicles - the hydrogen-fuelled StreetDeck Hydroliner and battery-powered StreetDeck Electroliner - as well as diesel variants, WB UPTIME 365 aims to keep vehicles on the roads for longer through its revolutionary remote fail-safe intervention technology.
Ian Gillot, MD of Parts and Service at Wrightbus, said it had been a successful first year for UPTIME 365.
"Wrightbus constantly leads the field when it comes to development, and WB UPTIME 365 has been no exception. The system has been constantly improving and evolving over the past 12 months to ensure it delivers the very best data to our customers.
"One of the most exciting developments has been the advancement of the system's AI functions. Thanks to the large amount of data we've collected over the past 12 months, we are in a position to predict component failures before they occur, which will be invaluable to our customers."
Mr Gillott said more improvements to the system coming later this year included route playback facilities to examine where 'out of normal' events happened and why; charge station interaction showing rates of charge and completion in realtime and any charging issues; ticket system integration; and driver monitoring.
"We are now in a position to expand the product out across non-Wrightbus vehicles, including buses, vans and lorries, which is incredibly exciting," added Mr Gillott.
The AI-based system provides real-time predictive data analysis and can alert operators when a bus needs preventive intervention, saving on maintenance costs. It is backed up by the company's class-leading support and repair service, on-hand to ensure the smooth running of fleet operations. 
Founded in 1946, Wrightbus has been at the forefront of public transport for more than seven decades and is still based in the heart of Ballymena, Northern Ireland.
Rescued from administration by green entrepreneur Jo Bamford in October 2019, the company has since gone from strength to strength, with staff numbers rising from 56 to more than 900.
Output from the Wrightbus factory has doubled in 2022 compared to last year, with zero-emission models making up 70 per cent of all orders this year, compared to just 30 per cent in 2021.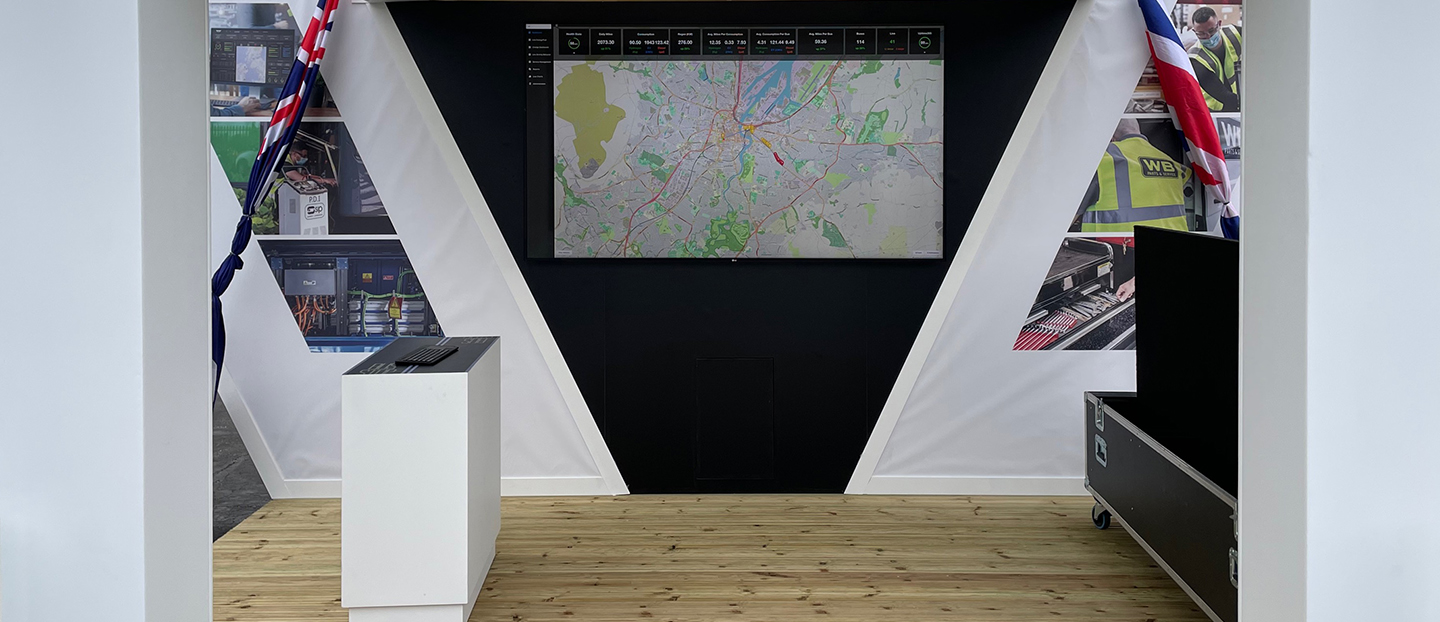 ENDS
For all media requests, including images and interview opportunities, contact Sarah Hughes, Head of PR, on:
07483 160222 or [email protected]
Notes to editors:
WB UPTIME 365
Last year, the service offered:
Front end solution which monitored events on the Hydrogen vehicles and reported on events prior to the driver/business knowing

Monitoring of own brand Diesel products

Live consumption, number of buses and aftercare performance

Historical fault reporting
This year's improvements include:
New Realtime UI – much faster than last year and more data per second due to the new server architecture (higher resolution maps and screens)

Live monitoring of Wrightbus EV, Hydrogen and Diesel products

Live monitoring and reporting on competitor Diesel and EV vehicles for customers to enable a single system to manage their entire fleet

Predictive fault reporting on EV, Hydrogen and Diesel products (focused around the highest risk / highest occurring items)

Live Temperature dashboard for customers assets (provides ambient, internal fan temperature and internal cabin temperatures in real time). This has reduced many 'return to depot' issues and VORs over the winter for some of our customers

Live Energy dashboard  - in real time, showing hydrogens and diesel fuel levels, EV SOC, remaining miles, and regeneration levels, with alerts when levels get low. This allows customers to manage the utilisation of their fleet much better, with ring fence alerts setup if a vehicle is outside a boundary with a certain level of mileage, the depot is alerted. This will also allow depot charge/fuelling stations to smart charge/fuel when a bus returns to depot

Fault reporting – Customers can now see faults by region, customer, season, date, asset and driveline type

Energy reporting – The ability to now see how energy is used and regenerated by depot and product; length of time a bus is on charge for and how many are over-utilising chargers in depot

Asset 'Driven' characteristics – looking at how the vehicle is being driven regarding acceleration, braking, and driving harshness.

Machine Learning/ AI – after modelling the large hydrogen vehicle data collection, the system will have the capabilities to predict component failure prior to any occurrence.

Battery management system integration – monitoring the battery management systems at a detailed battery cell level, including voltage per cell, temperatures, online/offline per pack events etc.
Coming later this year:
Route playback - 'snail trail' of a trip with the ability to overlay when and where 'out of normal' events occurred and why.

Charge station interaction – Charge station handshakes, rate of charge in realtime, charge completion alerts/SMS, issues around charge rates and non charge events via email and SMS

Ticket system integration – driver id and live route plan information

Out of Sector system – Uptime 365 will not only be on competitor buses but also have the capability to monitor and add value to vans, lorries and other sectors

 
About Wrightbus
Wrightbus, based in Ballymena, Northern Ireland, builds the world's lightest bus chassis and has developed the world's first double-decker hydrogen bus. Owned by Jo Bamford, who bought the business in 2019, Wrightbus is at the vanguard of the zero-emission bus movement. The first hydrogen buses are in operation in Aberdeen and London, with more local authorities looking to introduce them to their fleet over the coming years.