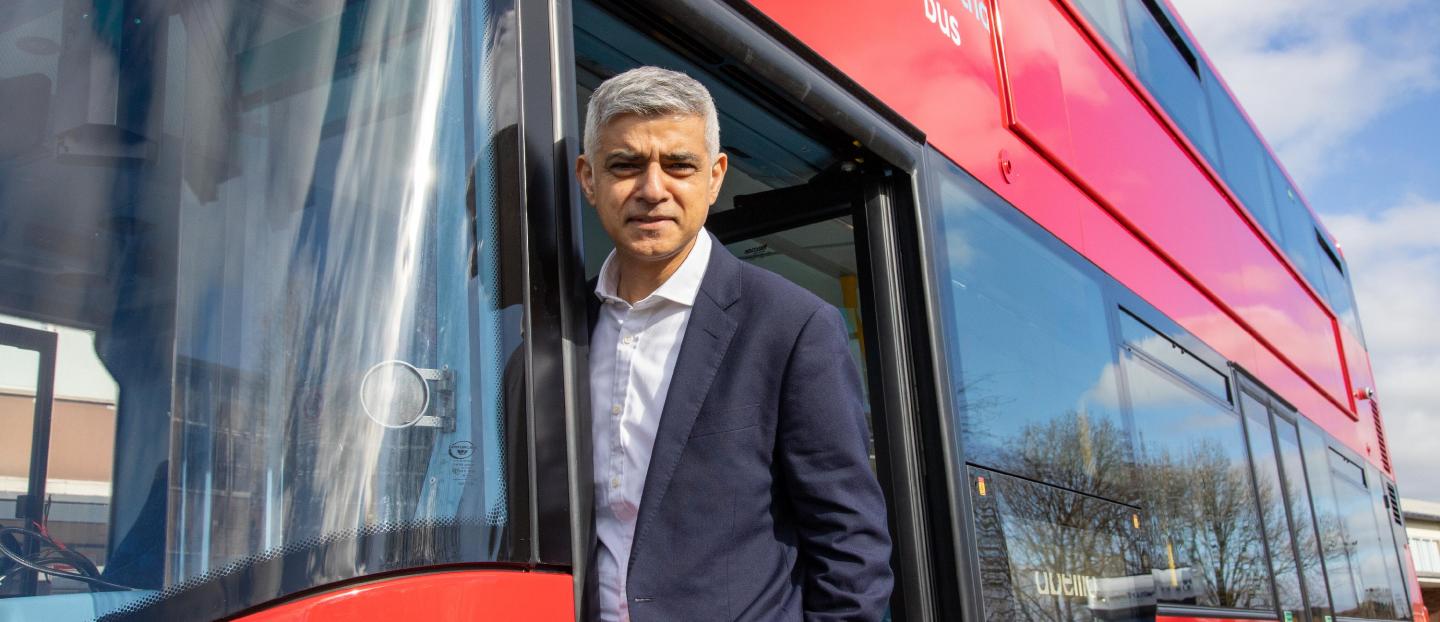 Mayor highlights risk to jobs across the country if TfL isn't properly funded with visit to Northern Ireland bus factory 
 
•    Sadiq visited Wrightbus' Ballymena factory to see the London electric double decker buses being made by the Northern Irish manufacturer 
•    TfL supply chain supports tens of thousands of jobs outside London which are at risk without long-term capital funding 
•    Mayor highlights importance of bus electrification to reduce UK's reliance on fossil fuel imports 
 
The Mayor of London, Sadiq Khan, today urged Government to provide longer-term capital funding to Transport for London (TfL) to ensure the continued success of the supply chain, which supports tens of thousands of jobs across the country.  
Visiting Wrightbus' Ballymena factory to see the production of new electric double decker buses - due to appear on London's roads in October – the Mayor reiterated how thousands of jobs around the UK linked to major transport projects in London could be at risk if TfL does not get the longer-term funding it needs.  
The high specification buses, ordered by Abellio, are the first electric double deckers to be manufactured for London in Northern Ireland and will be rolled out in October on the route 111, linking Kingston to Heathrow - adding another 30 double decker electric buses to the capital's roads.  
This forms part of the Mayor's ongoing commitment to clean up London's buses to improve its toxic air and tackle the climate emergency. There are already around 750 electric and zero emissions buses on the streets of London, and with sustained government funding London could have a fully zero-emission fleet by 2030 – one of the Mayor's key aims. 
England's first hydrogen double decker buses, which Sadiq launched on London's streets in June last year, were also manufactured by Wrightbus in Ballymena. These buses are helping to reduce TfL's carbon footprint and further reduce harmful emissions to help ensure Londoners breathe cleaner air.  
The innovation and technology used for the high specification buses is based in Ballymena. Wrightbus has a large engineering team in the town with around 90 people in R&D, and it also funds 35 research posts at Belfast's Queen's University. The company currently employs 25 apprentices and is recruiting more.
The contract for these buses is supporting around 800 jobs linked to skilled manufacturing, with plans to now expand the workforce. Highlighting the demand for zero emission vehicles, production at the Wrightbus factory has switched from 30 per cent zero emission buses in 2021 to almost 70 per cent in 2022. Overall production at the factory will be almost double this year compared to last year, driven largely by the desire for zero emission buses.  
Ballymena's Wrightbus factory is a prime example of how TfL's supply chain stretches around the country, alongside two other main bus manufacturers covering Leeds (Switch) and Scarborough and Falkirk (ADL), creating jobs, capacity and certainty for the wider national zero emission bus market. TfL contracts support tens of thousands of jobs outside London and contribute around £7bn to the UK economy, with 55 pence of every pound spent on London Underground investment going outside of London – indicating how essential sustained funding for TfL is to the wider UK economy.   
Throughout the pandemic the Government has refused to provide TfL with a long-term funding deal that would allow it to invest for the future, and TfL is forced to plan for a 'managed decline' scenario that would see services cut. The Government has now agreed to provide TfL with an outline proposal for capital support this month – it is essential that this proposal provides the funding TfL need to support the transport network in London and the thousands of jobs this provides around the UK. While a London-style bus system should be the norm in other major UK cities, it is in no-one's interests for the London bus network to begin to fall into decay. 
The Mayor of London Sadiq Khan, said:  
"Londoners will soon see the all-electric buses built at this Ballymena factory on the capital's roads, adding to our ever increasing zero-emissions bus fleet and illustrating how investment in our capital can support innovation and jobs in green technology across the country. 
"This is a prime example of how TfL's supply chain stretches throughout the UK, supporting jobs, capacity and certainty for the national move towards a zero emission bus market, helping to clean up our filthy air. 
"Each new electric bus operating on the streets of London and other UK cities also means less reliance on fossil fuels.
"However, as it stands the Government's short-term funding deals are trapping TfL on life support and putting innovation, economic growth and jobs like this at risk, as well as slowing our efforts to improve energy security. I urge the Government to engage with TfL and City Hall in good faith over the next few months so that we can finally agree a fair, longer-term funding deal that will protect London's transport network – for the sake of the capital and the whole country."
 In addition to improved air quality and lower carbon emissions, customers travelling on these electric buses will benefit from quieter, smoother journeys due to fewer vibrations, and USB charging points. Electric buses also have innovative new safety features in line with TfL's world-leading Bus Safety Standard guidelines. 
Buta Atwal, Wrightbus CEO, said:
"We were delighted to welcome Sadiq Khan to our Ballymena factory to see the world-leading StreetDeck Electroliners in production. We're looking forward to seeing them on the roads of London and helping to improve air quality later this year.
"We're proud to be a UK company that is not only supporting the UK's decarbonisation push thanks to our zero emission buses, but that is creating and supporting jobs in the UK at the same time. 
"We design and manufacture our buses in Northern Ireland using parts that are, as much as possible, made and sourced in the UK and we directly employ almost 900 people, with many thousands more supported throughout the UK supply chain. As a result, every new Wrightbus-made zero emission bus for the capital is not  just good news for air quality in London, but for jobs across the UK."
 Louise Cheeseman, TfL's Director of Buses, said:
"Transforming London's bus fleet to being zero emission is vital in cleaning up the capital's toxic air and tackling the climate crisis. The benefits of investing in these cleaner vehicles are also felt across the country with skilled manufacturing jobs created across the length and breadth of the UK. 
"What we are seeing in Ballymena is the green industrial revolution in action. Wrightbus has moved to a bigger factory to accommodate an increased order book and it is great news that the company is now looking to employ more staff with London's route 111 buses now moving through the production line. This shows the importance of continued investment in decarbonising the transport network and securing the sustainable jobs of the future." 
 Jon Eardley, Managing Director of Abellio London Bus, said:
"The new electric buses that Abellio is bringing to the capital this Autumn will benefit Londoners and support jobs across the UK. 
"This order will continue the commitment to improve the travel experience for customers by adding more state of the art, best-in-class electric buses to the streets of London, cleaning the air and helping to deliver the Mayor's zero emission ambition.
"Here at Abellio we believe that continued and sustained investment in the capital's zero emission fleet is essential to attract more people to use public transport, which in turn promotes other modes of active travel.
"By working in partnership with Wrightbus and leveraging its skills and expertise we've co-produced a great vehicle for a great city, which everyone can be extremely proud of."