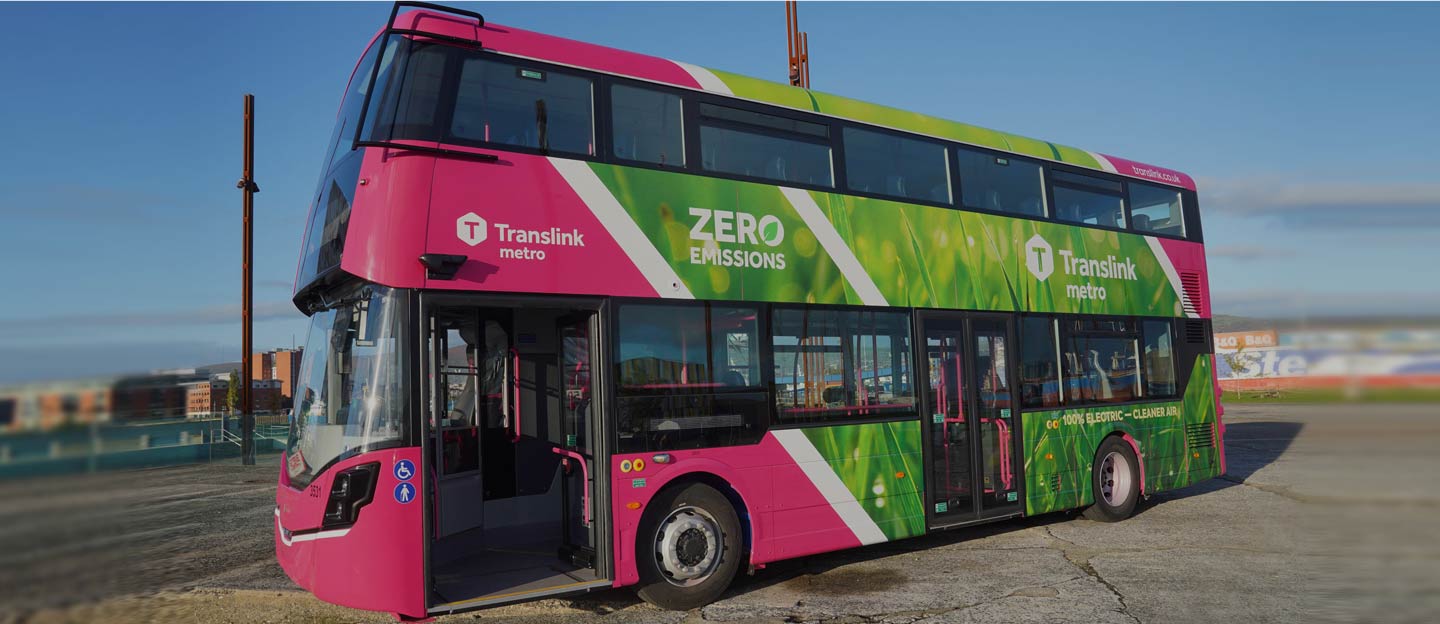 Infrastructure Minister Nichola Mallon has today unveiled the first of 80 battery electric double decker buses due to be in passenger service in spring 2022.
Part of her £74million investment for 100 zero emission buses, which also includes 20 Hydrogen fuelled buses and a programme of associated infrastructure works, is the next key milestone in Minister Mallon's commitment to climate action and decarbonising Northern Ireland's public transport.
Minister Mallon said: 
"The time for talking is over - it is now time for climate action. Cleaner, greener, sustainable transport is key to protecting our environment and fighting the climate crisis. I have been clear since coming to office that we must act now to deliver the change that our communities and our citizens deserve.
"That is why I provided £74million of investment in zero/low emission buses and I am delighted to see this investment now translate into delivery on the ground with the arrival of the first electric double decker buses for public transport on the island of Ireland today.  When all the buses arrive and are in service Translink will have the 4th largest fleet across these islands of zero emission buses – demonstrating my commitment to ensuring Northern Ireland is building a cleaner, greener society.
"Today's announcement comes on the day the UN COP26 Climate Change Summit Presidency theme is putting a focus on Energy, where parties are focused on accelerating the global transition to clean energy. It is fantastic that the hard work here in Northern Ireland is paying off and we are transitioning our public transport system now and for the future.  I believe COP26 represents a critical time and opportunity for decision makers across the world.  This is the world's best and last chance to mitigate the worst impacts of the climate crisis. I am hopeful, I am committed and I am determined to deliver the change our people, our place and our planet urgently requires".
Chris Conway, Group Chief Executive, Translink said:
"This is another significant milestone in our journey to reduce our carbon emissions and attract more people to cleaner public transport choices for the benefit of everyone.  These new zero emission buses will make up around one third of the Translink Metro fleet helping improve air quality in Belfast.  They will also offer the latest standards in comfort, quality and accessibility with in-seat USB chargers, WiFi and new accessibility features.
"For the first time in over 3 decades, city services in Belfast will see double doors being re-introduced on double decker buses, facilitating faster boarding and alighting, new contactless ticketing and improving fresh air flow onboard for passengers".
"As we drive the transport transformation in Northern Ireland, we are working collaboratively with a range of partners from the industry to make real progress in tackling the climate crisis, enhancing air quality for health and wellbeing and reducing congestion.
"We are already seeing more people turn to public transport as our region starts to slowly recover; today marks the start of a new era for green active transport to inspire and incentivise modal shift from private car to a sustainable, healthier and smarter travel mode. 
"We would like to thank the Minister and her Department for their commitment and look forward to our continued partnership as we continue to help drive net zero carbon targets for Northern Ireland." Chris concluded.
Wrightbus MD, Neil Collins, said:
"We're delighted that Translink will be the first operator to put our Wrightbus Electroliner into passenger service. It seems incredibly fitting that passengers in Northern Ireland will be the first to benefit from the revolutionary bus that was developed and built in Northern Ireland.
"Alongside the 20 Hydroliner hydrogen double decker buses, the zero-emission Electroliner bus - which is the fastest charging of its kind on the market - will help Belfast achieve its net zero targets by significantly reducing the amount of CO2 emitted across its public transport network".
The public will have the opportunity to step inside the zero emission all-electric double-decker bus on the 10 November, as part of RE[act] Festival, a two week event organised by Linen Quarter Business Improvement District aimed at inspiring all industries and all walks of life to respond to the global climate crisis. 
Translink will attend the 'Sustainable and Active Travel' event at Custom House Square from 11.00 am to 3.00 pm with the session allowing people to experience the new electric bus first-hand and learn more about the organisation's plans to support sustainable travel across Northern Ireland.