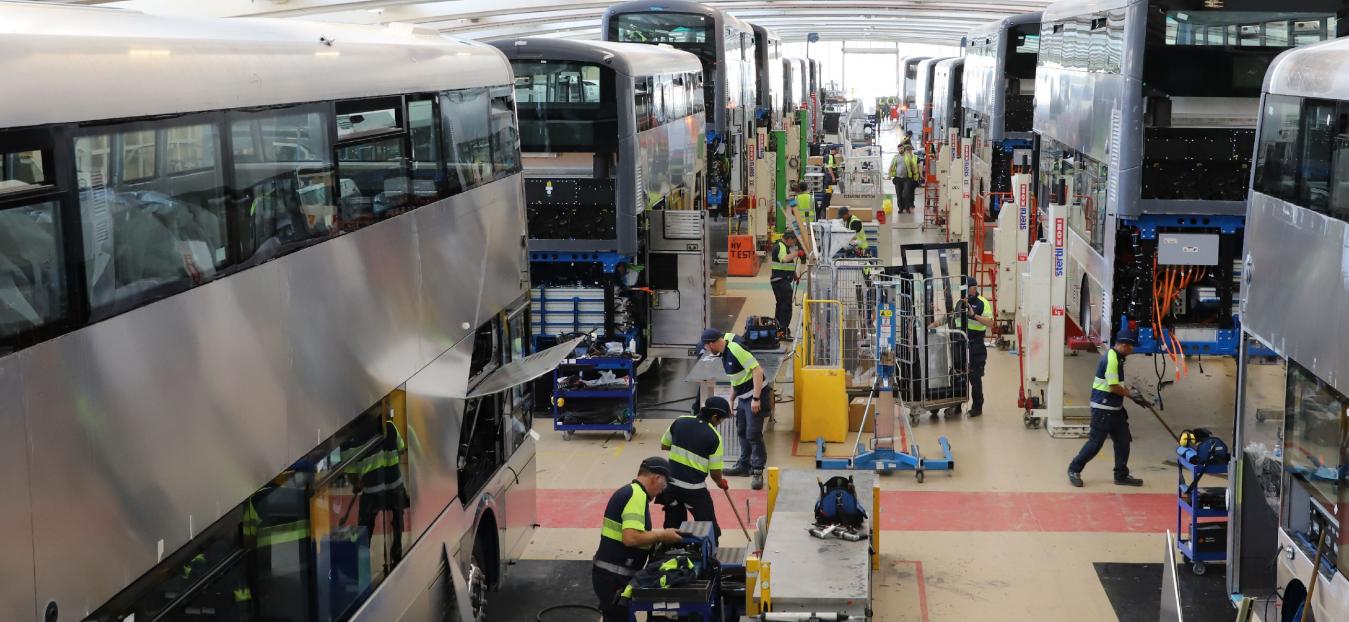 Pioneering bus manufacturer Wrightbus creating hundreds of new jobs as it targets further growth in green transport
The company behind the world's first hydrogen and world's most efficient battery electric double deck buses is creating hundreds of new jobs as it looks to the future of zero-emission transport.
Northern Ireland-based Wrightbus is expanding its workforce as part of the company's  continued growth as a market leader in clean vehicles.
It took on its 1,000th member of staff last year - just three years after being bought out of administration by green pioneer Jo Bamford with just 56 people on the books.
It now employs more than 1,200 people and has a mix of production and support roles available across the business.
Nicola McCloskey, HR Director at Wrightbus, said: "As the business continues to grow, we are on the lookout for talented individuals to join us in our journey to create even more sustainable, environmentally-friendly transport around the world.
"There has never been a more exciting time to join this industry to begin or develop your career.
"We have a variety of roles available as we continue to build a better, more diverse and inclusive workplace for all our employees.
"Factories are often associated with being dark and dirty places where the work is repetitive, but today's manufacturing environment couldn't be more different from this misconception.
"Our plant is a bright, spacious place where staff are encouraged to innovate and improve to help us shape the future of such an important industry.
"We are actively recruiting for 160 support positions and have approximately 50 more support vacancies budgeted for the rest of the year.
"There is also a requirement for about 100 production positions between now and the end of 2023 - excluding active offers - and 50 apprenticeships."
Production roles include skilled, semi-skilled and factory operative positions such as coachbuilders,  electricians, mechanical fitters, welders, spray painters and assembly operatives.  
To be successful in the skilled positions, applicants should hold relevant trades qualifications or experience in joinery, plumbing, glazing, electrical, auto electrics, welding, spray painting, mechanicing etc.
For semi-skilled positions, candidates will need at least three months of experience with hand tools and successfully complete an assessment.
Wrightbus also has a wide range of support roles available including in HR,  purchasing  engineering, sales, IT, quality and mobile service engineers.
The firm will be hosting its latest recruitment evening at its site in Ballymena on Thursday, September 21 from 5.30pm to 8pm.
There will be a chance to have a tour of the factory and meet departmental managers and the HR team.
Anyone interested can email [email protected] 
Nicola said: "Following the success of our previous recruitment evenings, we are once again opening our doors so that anyone considering a career with us can find out about a host of positions currently available.
"With the potential to leave on the night with a job offer in hand, these events really are a fantastic opportunity and well worth attending.
"We look forward to welcoming new team members who share our passion for excellence."
Wrightbus launched its first zero-emission bus - the Streetdeck Hydroliner - in 2020 in Aberdeen, with the fleet entering passenger service in January 2021.
It is also behind the world's most efficient double deck electric bus - the Streetdeck Electroliner, as well as single deck battery electric and hydrogen electric buses.