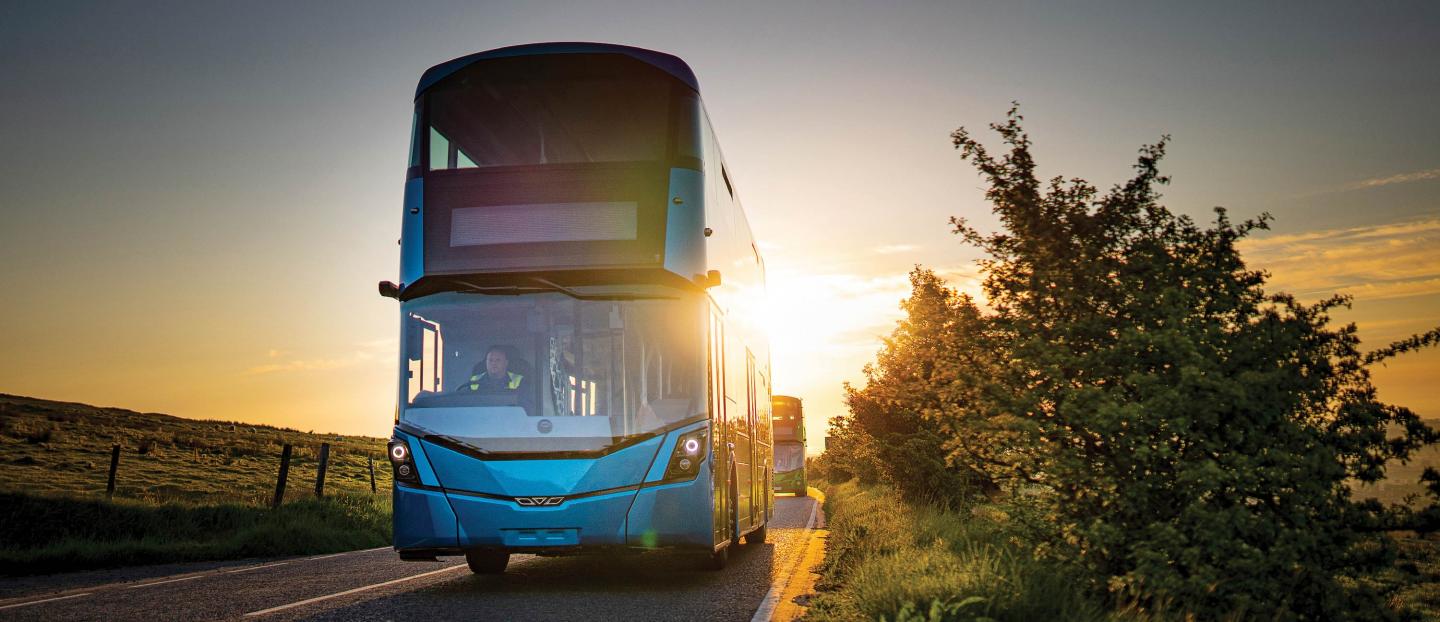 World-leading Wrightbus EV Double Deck Electroliner on UK Tour
Electric bus manufacturer, Wrightbus, is taking its StreetDeck Electroliner on a UK-wide tour to demonstrate the capabilities of the vehicle.
The zero emission rapid-charge double decker was launched by Wrightbus last year. The Electroliner is visiting operators in Cardiff, Warrington, Oxford, Birmingham, Leicester, Nottingham, Bradford, Blackpool, and Manchester. The tour will also see the vehicle visit Scotland and Northern Ireland over the coming months, giving local authorities and bus operators the chance to see the bus in action.
The zero emission rapid-charge double deck - the first ever EV from Wrightbus and the fastest charging on the market - was launched by the firm last year.
The StreetDeck Electroliner is the perfect combination of range and efficiency, maximising power and offering class-leading recharge times.
Utilising a French battery pack which delivers 454kw and a 200-mile range, the Electroliner can recharge in two hours 45 minutes and copes with all routes, whether urban or rural.
Nor has the bus compromised on layout or capacity, with batteries efficiently stored around the bus to ensure passenger capacity and comfort is maximised.
Founded in 1946, Wrightbus has been at the forefront of public transport for 75 years and is still based in the heart of Ballymena, Northern Ireland.
It has been at the forefront of the movement to decarbonise public transport across the UK and the island of Ireland with its world-first hydrogen double decker, the StreetDeck Hydroliner, alongside the Electroliner.
To date, Wrightbus zero emission vehicles have prevented more than 1,600 tonnes of CO2 from entering the atmosphere versus the same journeys being completed in a diesel vehicle.
Wrightbus CEO, Buta Atwal, said:
"We've got the best brains on the business when it comes to zero emission technology, and our StreetDeck Electroliner is no exception.
"We're looking forward to showing everyone what it is capable of. Since the bus was launched last year, we've had significant interest from across the UK and beyond, but due to the various lockdowns and restrictions we've found ourselves living with, it has been difficult at times for our customers to get really hands-on with the bus.
"Now restrictions have been lifted, we've decided to remedy that by taking the bus on the road and allowing our customers to enjoy testing its full capabilities.
"We haven't weighed the bus down with a high battery volume just so we can say it's got the most power or range; instead, we've created the most efficient vehicle by combining optimum power with a class-leading rapid charge, meaning our electric bus spends more time on the road than any other. We're confident our customers will enjoy the experience."