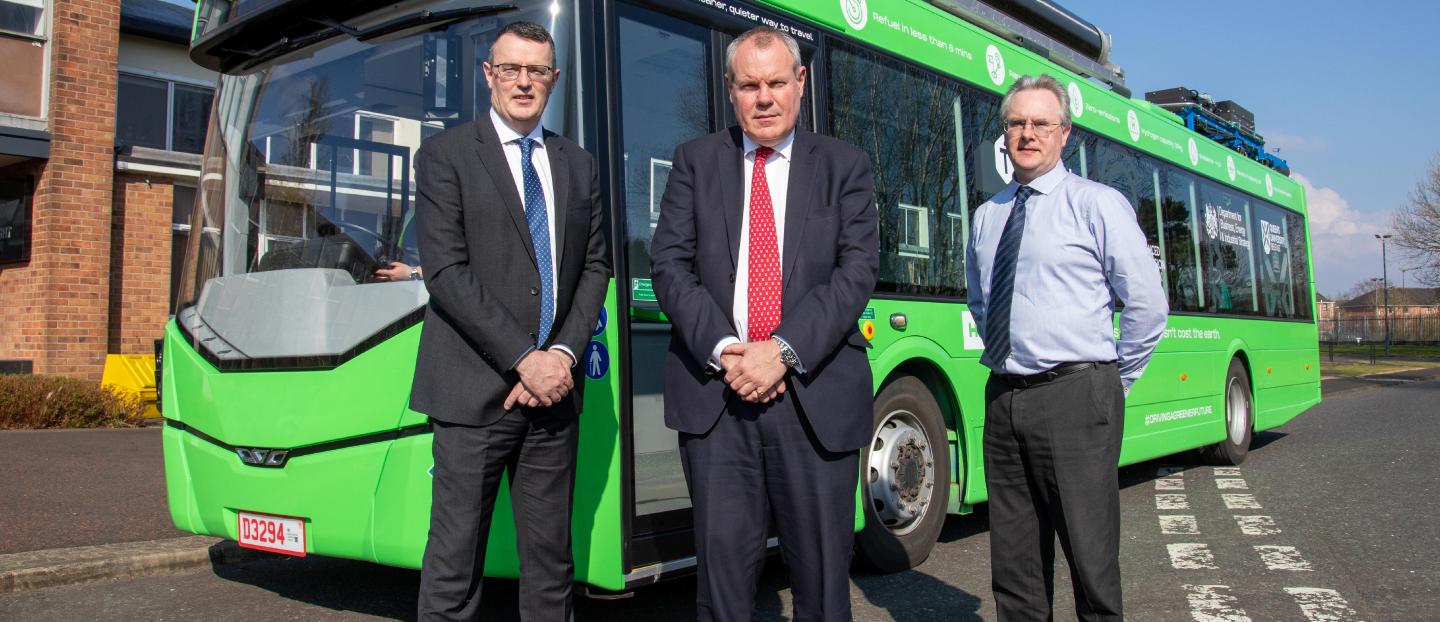 Minister of State for Northern Ireland Conor Burns today (Friday 25 March) visited the pioneering Wrightbus factory in Ballymena to talk about the vital role hydrogen has to play in the green economy.
In March 2021, Wrightbus received £11.2million investment from the UK Government to develop low-cost hydrogen fuel cell technology, boosting the local economy and highlighting the Government's commitment to a net zero future.
Mr Burns met with Neil Collins, Managing Director of Wrightbus, and Damian McGarry, Development and Manufacturing Director, to discuss the company's future plans and how the UK Government's Zero Emission Bus Region Areas (ZEBRA) scheme is helping to increase the demand for production for zero emission buses in Northern Ireland.
The ZEBRA scheme has been established to help English local transport authorities to bid for funding to purchase zero-emission buses to add to their fleets, with £270million being made available to local authorities so far.
Wrightbus's zero-emissions options include the world's first hydrogen double decker bus, the revolutionary StreetDeck Hydroliner, along with the fastest-charging EV on the market, the StreetDeck Electroliner.
After a tour of the factory, Northern Ireland Minister of State Conor Burns said:
"During my visit here, I have been delighted to see how the £11.2million investment which the Government has made is helping Wrightbus in developing and manufacturing low-cost hydrogen fuel cell technology for buses.
"The UK Government is committed to achieving its Net Zero goals and the zero-emission buses produced at Wrightbus in Ballymena are helping to ensure that local transport authorities in Northern Ireland and across the UK have the supply they need.
"Wrightbuses can be seen around the UK, in cities such as London, Birmingham and Aberdeen, as we strive to meet our Net Zero by 2050 target together."
Managing Director of Wrightbus Neil Collins said:
"The adoption of zero emission public transport is a vital step in meeting goals on climate change and in moving away from our reliance on oil and gas. We were delighted to welcome Mr Burns here to talk about the work we are doing, which includes a significant increase in the production of zero emission buses.
"This year we will be doubling production compared to 2021, with buses going into service across the UK and the island of Ireland.
"We will also see a significant switch in our output from 70 per cent diesel buses in 2021 to around 70 per cent zero-emission buses in 2022."
When Wrightbus was taken over by Jo Bamford in October 2019, only 56 staff remained in the business. Just over two years on, and largely thanks to its new zero emission products, Wrightbus is now on track to employ more than 900 staff over the next few months once its latest recruitment drive is complete.
Mr Collins said: "As well as leading the way in reducing the impact of climate change, we are also supporting jobs in Northern Ireland and the wider Northern Ireland economy, as well as jobs across the UK through our supply chain."