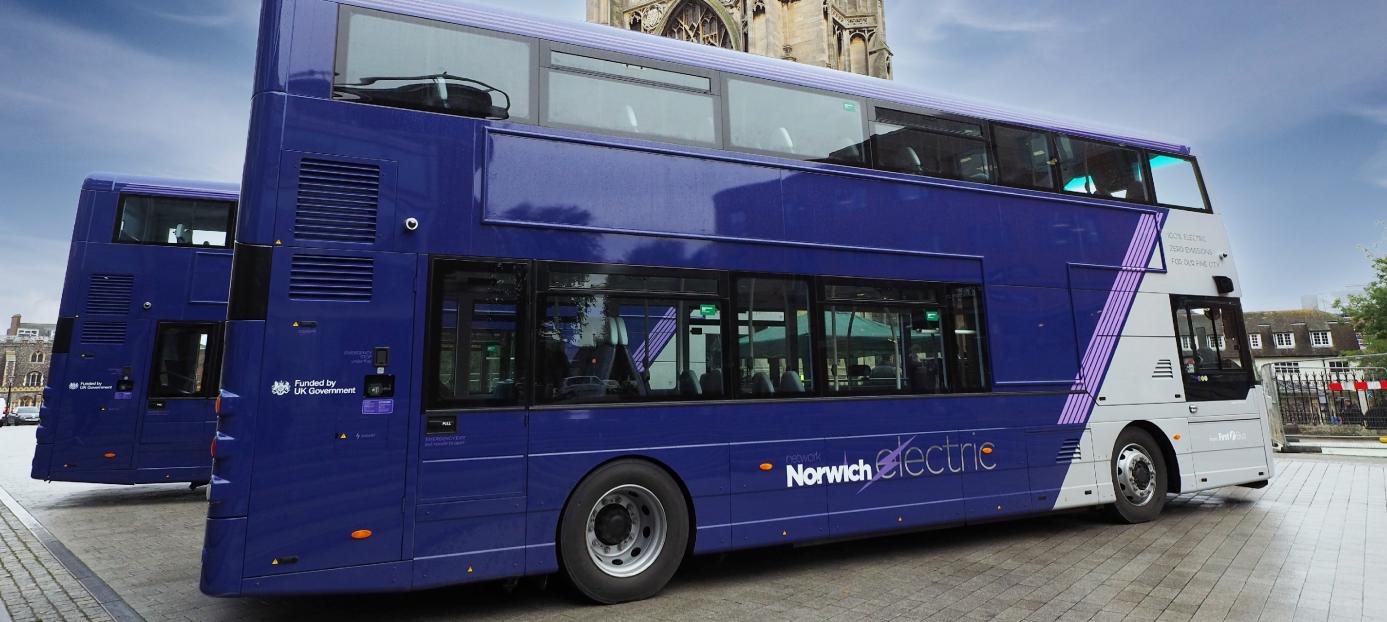 Zero-emission electric buses manufactured by Northern Ireland-based Wrightbus will be hitting the streets of Norwich.
Operated by First Bus, seven StreetDeck Electroliners - the world's most efficient double deck battery-electric bus - will be serving passengers from Monday, 30th October.
These vehicles are the first of a fleet of seventy which will be rolled out over the coming months, and will replace all the diesel buses working out of First Bus' Roundtree Way depot by March 2024.
The introduction of the new EVs will mean that by 2024 over half of the Norwich network operated by First Bus will be electric, that's over 60 per cent of all bus journeys through Castle Meadow in the city centre. 
The buses, which have been built at Wrightbus's factory in Ballymena, are part of First Bus' pledge to convert its entire fleet to zero tailpipe emissions by 2035.
Jean-Marc Gales, CEO of Wrightbus, said: "We're delighted to be working with First Bus to help the company achieve its net-zero ambitions.
"It has been a real team effort between Wrightbus, First Bus and the local authority to deliver this significant deal.
"We look forward to seeing these buses in operation, which will help passengers enjoy comfortable and cleaner transport.
"Wrightbus continues to have a vital role to play in decarbonising public transport and in enabling operators, local authorities and governments to meet their carbon reduction targets."
Piers Marlow, Managing Director of First East of England, said: "It's incredibly exciting, after all the hard work and planning that has gone into this project so far, that the first vehicles are going out onto the road to serve customers in Norwich.
"These vehicles offer significant environmental benefits, saving around 75 tonnes of CO2 per vehicle per year when compared to a diesel, and will improve the air quality for the city's residents and visitors as they emit zero tailpipe emissions.
"Importantly, they will also improve the journey experience for our customers, and are fitted with all the modern features, offering a quieter and smoother ride, USB charging points, and good accessibility features. We hope that Norwich's bus users are as pleased with them as we are."
To fund the purchase of the vehicles, First Bus and Norfolk County Council secured an investment of £14.7 million from the Department for Transport's Zero Emission Bus Regional Area (ZEBRA) government funding. The grant is matched with around £23 million of funding by First Bus.
Graham Plant, Cabinet member for highways, infrastructure and transport, added: "The arrival of these buses is an extraordinary boost to our ambitions to run a net-zero transport system in Norfolk and I am excited to see that the first buses are going out in service for people to experience.
"The support that First Bus has shown for this project demonstrates the excellent working relationship we have with our bus operators here in Norfolk and how working together can help to achieve the very best for our county."