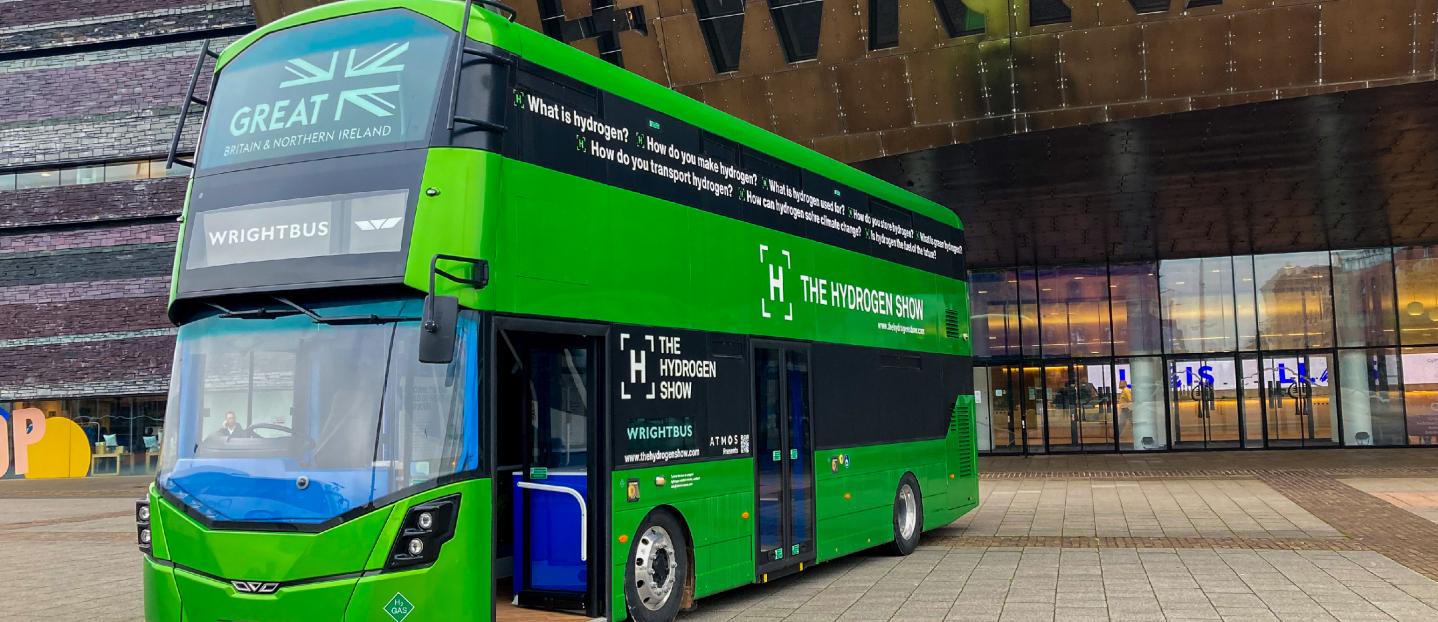 Leading bus manufacturer Wrightbus showcasing the capabilities of hydrogen and its part in the UK's net zero ambitions at a show in Wales.
The Northern Ireland-based firm will be exhibiting its world-first hydrogen double deck bus at the Hydrogen Day event in Cardiff on Tuesday, 10 October.
The company launched its first zero-emission bus - the Streetdeck Hydroliner - in 2020 in Aberdeen, with the fleet entering passenger service in January 2021. The Hydroliner bus emits only water from its tailpipe, with no harmful emissions.
Wrightbus is also behind the world's most efficient double deck electric bus - the Streetdeck Electroliner, and is the only bus manufacturer in Europe to offer both single deck and double deck hydrogen fuel cell and battery electric buses.
Hosted by HyCymru, the Hydrogen Day event is being held in the Senedd - the home of the Welsh Parliament - and forms part of the National Hydrogen Day celebrations on 8 October.
Featuring a number of guest speakers, it will highlight the benefits and opportunities of hydrogen as a long-term renewable energy source in Wales.
Phil Owen, Head of Sales (Key Accounts) at Wrightbus who will be representing the firm at the show, said: "We are immensely proud to be showcasing our hydrogen show bus at the show in Cardiff and are looking forward to sharing with visitors what it is capable of.
"This event is a fantastic opportunity for us to show we are interested in supporting Wales in its drive towards zero-emission public transport.
"The UK has an opportunity to be a world leader in hydrogen production. Hydrogen technology has the potential to create and sustain hundreds of thousands of high-quality jobs in all parts of the UK, covering many different sectors.
"Our buses are world-leading and are helping to play an important part in the UK's ambitions for decarbonisation.
"Now more than ever before is the time to showcase the many benefits of hydrogen."
Earlier this year, Wrightbus delivered an initial 20 hydrogen fuel cell buses for the Go-Ahead Group to carry passengers on routes in the Gatwick Airport, Crawley and Horley area. Once fully delivered, the fleet will comprise 54 vehicles and will be one of the biggest hydrogen bus fleets in the UK.
Wrightbus vehicles are currently in operation around the UK and Ireland. Local authorities and bus operators have introduced them to their town and city streets to improve local air quality and ensure passengers enjoy a cleaner, greener journey.
The vehicles are manufactured at the firm's headquarters in Ballymena in Northern Ireland, supporting hundreds of new high-skilled jobs to help level up and grow the economy.