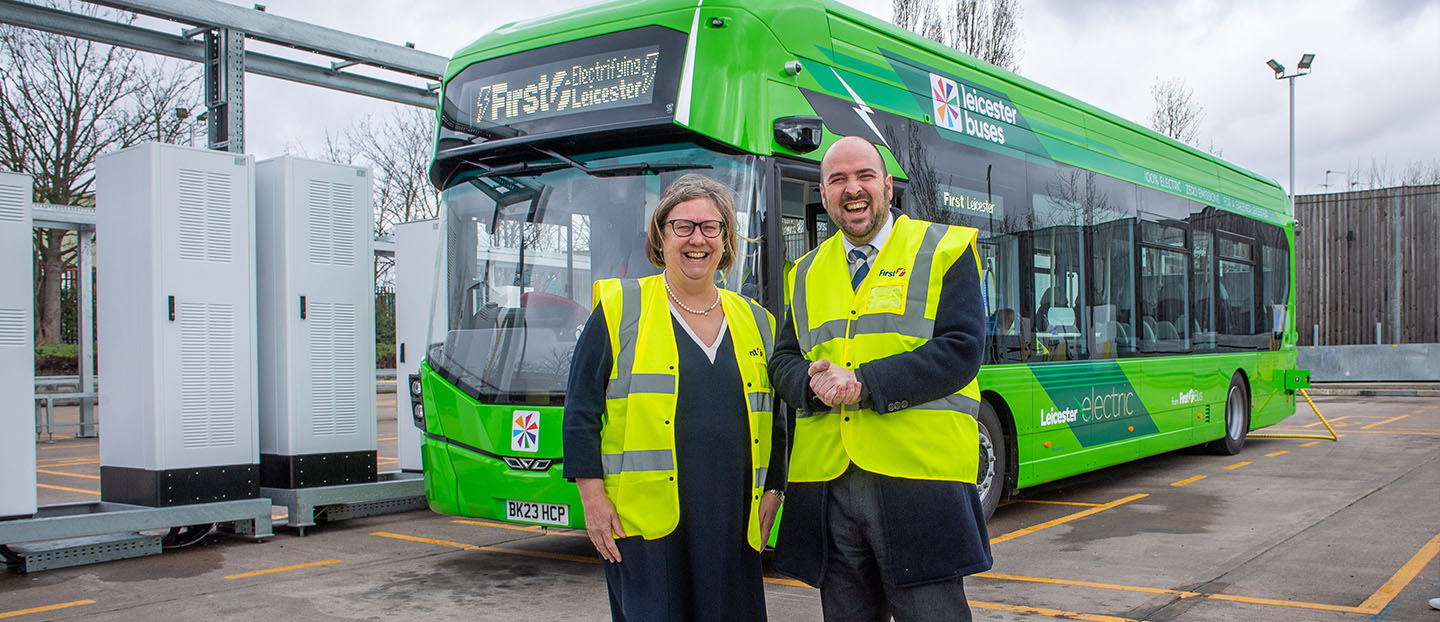 Bus manufacturer Wrightbus has secured a new order to deliver 18 zero emission buses for First Bus in Leicester.
The latest order comes on the back of a recent £25.3 million contract to supply 117 of the battery-electric vehicles for the bus operator across the UK announced at the beginning of March. 
The buses will be built in Wrightbus's factory in Ballymena Northern Ireland.
First Bus and its local authority partner successfully secured Department for Transport (DfT) approval to boost their existing Zero Emission Bus Regional Area (ZEBRA) funding.
The deal is part of the UK Government's strategy to support and decarbonise the public transport sector.
Ian Gillott, Managing Director (Parts and Services) at Wrightbus, said: "Our partnership with First Bus is hugely significant in the drive to zero-emission public transport. 
"It has been a real team effort between the local authority, Wrightbus and First Bus to deliver this exciting project. 
"We can't wait to see these buses in operation in Leicester, which will help passengers enjoy comfortable and cleaner transport.
"We are consistently at the forefront of zero and low-emission travel and would be delighted to progress future orders, dependent on future co-funding opportunities.
"Our electric buses - the GB Kite Electroliner BEV and the StreetDeck Electroliner BEV, which is the world's most efficient double deck battery-electric bus - are manufactured and assembled at our Ballymena factory, which means support for jobs in NI, and wider across the UK through our domestic supply chain."
First Bus has also announced plans to upgrade its Abbey Lane depot in Leicester so it becomes fully electrified.
Hailed a 'depot of the future,' Leicester will set the precedent for a further five depots to become electrified by March 2024 through boosted ZEBRA funding.
First Bus will invest £6.6m to bring this project to fruition, alongside additional DfT funding of £2.9m secured in partnership with Leicester City Council. 54% of the funding will be provided by First Bus, with the remaining 46% coming from the UK Government's ZEBRA scheme. 
An additional 18 electric buses will arrive in Leicester later this year, with 86 hitting the road by March 2024.
Roads and Local Transport Minister, Richard Holden, visited the Leicester depot today (21 March) to welcome the new fleet of ZEBRA-funded and British-built buses, courtesy of manufacturing partner Wrightbus.
Minister Holden said: "Buses are the most popular form of public transport, and these new UK-made zero emission buses will help make them more attractive still by providing cleaner, smoother and more reliable services across Leicester.  
"We're providing an extra three million pound to roll out 18 new electric buses to provide residents in Leicester with better, cleaner and quieter journeys, as we step up a gear to reach net zero faster and level up transport across the country."
Janette Bell, Managing Director at First Bus, said: "We're absolutely delighted that Leicester will become one of our blueprint bus depots of the future, helping us to refine and iterate this new concept so we can roll it out across the rest of the UK. At First Bus, we're continuing to trailblaze with our partners to ensure we meet our net zero targets, supported by co-funding from the Department for Transport.
"As leaders in sustainable mobility, we are fully aligned with the Government's ambitions for a net zero carbon transport system. Through this co-funding with the ZEBRA scheme, we're excited to electrify another five of our UK depots before March 2024, and look forward to introducing even more electric buses to our constantly growing fleet.
"We cannot wait to see our customers' reactions once the project is complete, as we know the difference this will make to the city."
At the conclusion of the ZEBRA projects, First Bus will have over 600 zero-emission buses in its fleet. This latest boost means First Bus currently has 328 fully electric buses on order with Wrightbus, which will help secure green jobs in the short-term.