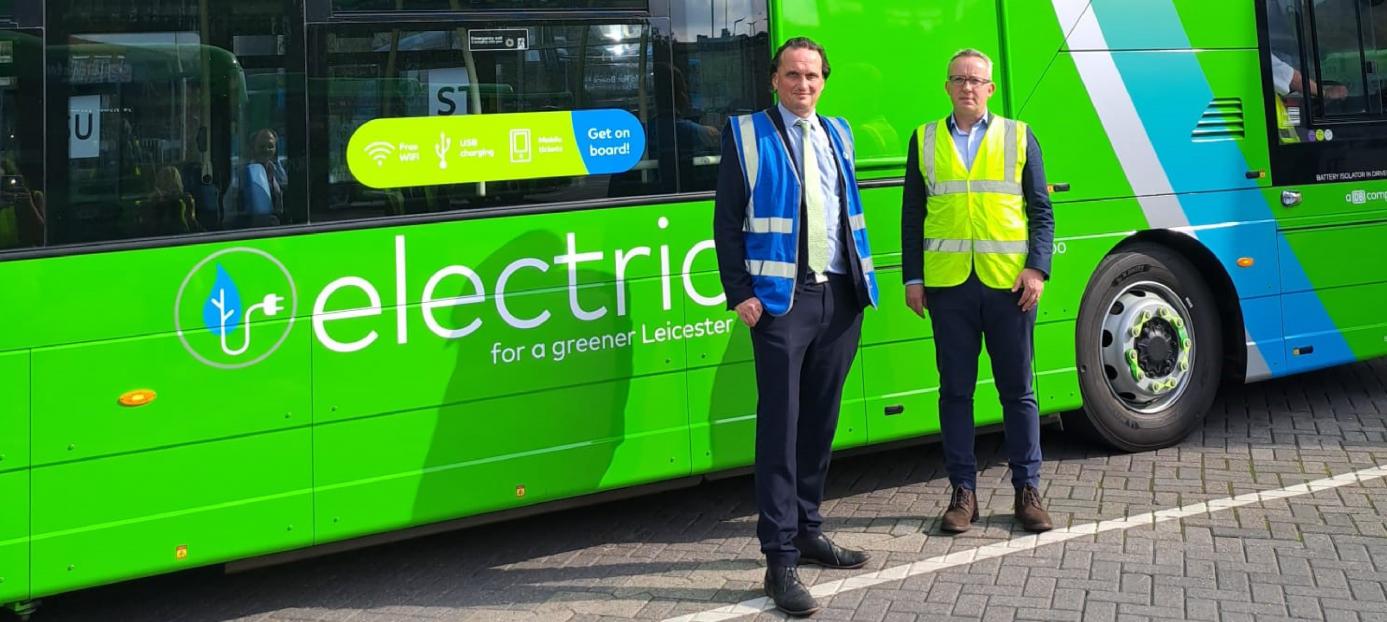 Wrightbus's first ever double-deck electric 'low bridge' buses being launched in Leicester
Pioneering bus manufacturer Wrightbus's first ever double-deck zero emission buses designed to combat low bridges are to be rolled out across Leicester.
Operated by Arriva, the 22 Streetdeck Electroliners are the Northern Ireland firm's first 'Low Bridge' specification double-deck battery electric buses and will be hitting the streets of Leicester in October.
They will be the city's first electric double-decks as well as being Arriva's first electric double-decks outside London.
The buses each carry around 90 passengers and have a range of around 200 miles with a recharge time of 2hrs 45mins.
The vehicles also have enhanced specifications to improve the customer experience such as better onboard lighting, digital customer information screens and USB charging points.
Jean-Marc Gales, CEO of Wrightbus, said: "We are delighted to be partnering with Arriva once again in accelerating its investment in the electrification of its bus fleet and in the drive to zero-emission public transport in the industry.
"This represents another significant deal for the business as we remain at the forefront of new and exciting technology.
"All of the buses will be built in Ballymena in Northern Ireland, lending further support to the wider regional economy and allowing us to create green jobs as we continue in our growth."
The first of the zero-emission vehicles was delivered in September for driver-training.
This landmark moment for the city's transport network is part of Arriva's pledge to deliver a sustainable and environmentally-friendly bus network.
The Wrightbus vehicles are the fruits of a significant investment by Arriva and has been made possible thanks to the ongoing partnership between Arriva UK Bus and Leicester City Council.
The operator and the local authority made a successful joint bid through the Government's Zero Emission Bus Regional Areas (ZEBRA) scheme to unlock the £11 million worth of green investment required to purchase new buses.
The boost in electric buses marks a giant step in Arriva's commitment to developing and decarbonising its fleet in Leicester, and builds on the millions of pounds the operator has already invested in upgrading its entire Leicester fleet to the latest Euro VI ultra-low emissions standards
Work is being completed at Arriva's Thurmaston depot to install chargers and infrastructure for the battery-electric fleet and engineers are being trained about the zero-emission vehicles.
Alistair Hands, Managing Director for Arriva, said: "Welcoming the new Wrightbus electric fleet into Leicester is a game-changing moment in our continued drive to operating a greener, decarbonised bus network.
"We are delighted to have worked in partnership with Wrightbus and Leicester City Council to have been able to make this happen.
"It's our aim to make Arriva UK Bus the best choice for passengers and we know our customers value our progressive attitude towards decarbonising public transport.
"We care passionately about the environment and we're showing that we're doing the right thing for the planet and our customers."