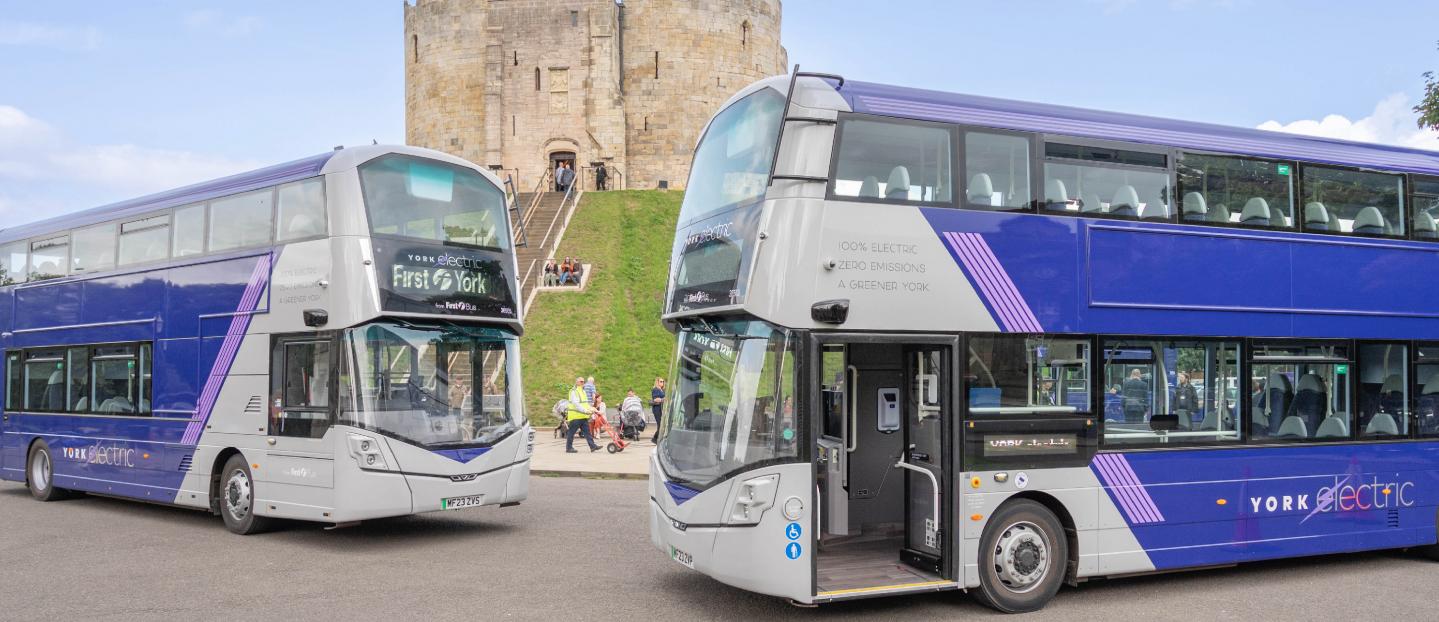 A new fleet of zero-emission vehicles, manufactured by Northern Ireland-based Wrightbus, has been launched in York.
The 53 StreetDeck Electroliner double-decks and single-deck GB Kite Electroliner, which will be operated by First Bus, will be rolled out across the city in the coming weeks.
Each battery-electric bus will save up to 60 tonnes of carbon emissions a year, meaning an anticipated annual reduction of more than 3,000 tonnes of CO2 when the full fleet is in operation.
Jean-Marc Gales, CEO of Wrightbus, said: "It has been a real team effort between Wrightbus, First Bus and its partners to deliver this exciting and significant project in York, which is part of a wider deal to provide 193 buses - the largest EV bus purchase outside of London.
"It's fantastic to see First Bus taking this vital and progressive step to decarbonise public transport to help the UK hit its ambitious net zero targets.
"It also illustrates our ambition to be at the forefront of the zero-emission drive in cities, towns and rural areas across the world."
The fleet represents a total investment by First Bus of £13 million supported with £10.2 million funding secured by City of York Council from the Government's Zebra scheme.
The investment also means FirstBus's depot will become one of the first outside London to be fully electric.
Andrew Cullen, Managing Director of First Bus in North & West Yorkshire, said: "An even greener transport revolution beckons in York and we are leading this change.
"We're proud to unveil these latest zero-emission buses and are confident they will appeal to our customers and attract more people to consider bus travel by realising the real impact this has in reducing congestion, creating cleaner air and supporting the York economy."
He added: "It is real evidence of our continuing successful partnership with City of York Council in bringing major improvements to bus services and supporting a shared ambition for a net zero transport system and reducing carbon emissions in the city."
The buses can carry around 90 passengers and have a range of up to 200 miles on full charge.
Councillor Claire Douglas, Leader of City of York Council, said: "Bringing this new technology to York is an exciting, important step towards a healthier city and reaching our key goal of being net zero by 2030.
"As the York fleet gradually becomes fully electric, I hope it will attract more and more people to using buses as we deliver a vision for cleaner, more efficient ways of getting around our city.
"I'd like to thank everyone involved in helping York lead the way by delivering this electric fleet and combined with investments and improvements via York's Bus Service Improvement Plan, showing our commitment to providing more frequent and affordable bus networks."
The StreetDeck Electroliner is the perfect combination of range and efficiency, maximising power and offering class-leading recharge times.
Official assessments undertaken at UTAC using the ZEMO-accredited Ultra Low Emission Bus (ULEB) test showed that the Electronlier achieved a result of 0.69 kWh/km - around half the energy consumed by its closest BEV double deck UK rival and significantly better than all other BEV single deck bus results published on the ZEMO website.
Not only is it more energy-efficient, but according to ULEB calculations, the StreetDeck Electroliner also produces an impressive 86% less CO2 per km than the ZEMO Euro6 Diesel baseline.
Wrightbus has been at the forefront of the movement to decarbonise public transport across the UK and Ireland with the Electroliner alongside its world-first hydrogen double deck, the StreetDeck Hydroliner.