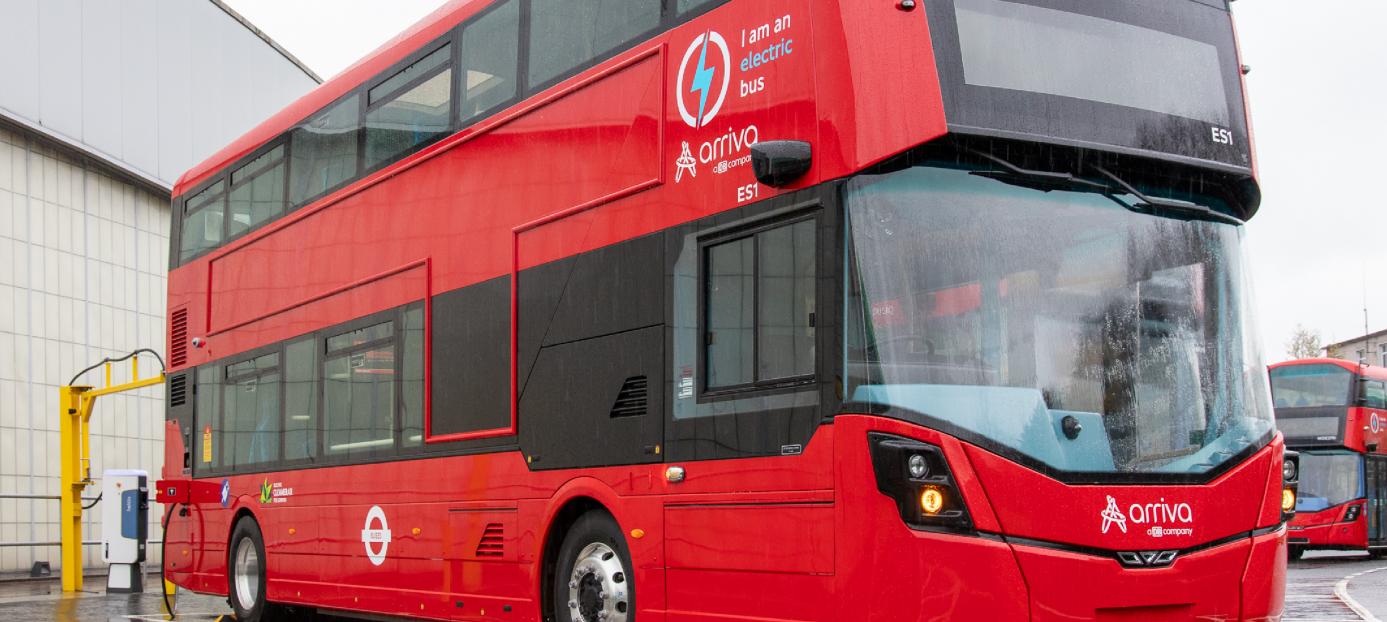 Manufacturer Wrightbus picks up new order to deliver world's most efficient double deck battery electric bus to streets of London
The company behind the world's most efficient battery electric double deck bus has secured a new order to deliver 34 more vehicles to Arriva in London.
The latest StreetDeck Electroliner buses will be rolled out across the capital next year and takes the total number of vehicles on order with the bus operator to over 100.
Deliveries of the Electroliner from previous orders are already under way to London where a total of 50 will be delivered this year, with a further 24 being supplied to Leicester.
The new buses will be manufactured at Wrightbus's headquarters in Ballymena in Northern Ireland, supporting hundreds of new high-skilled jobs to help level up and grow the economy. 
Marcos Hart, operations director for Arriva UK Bus, said: "We are delighted to once again be partnering with Wrightbus to welcome a further 34 zero-emission electric vehicles into our growing electric operation.
"These state-of-the-art, high-spec buses will arrive at our Enfield depot in early 2024 and will serve passengers on Route 279, taking our London fleet to over 100 electric vehicles across our four electrified garages.
"In addition to enhancing the onboard experience for our passengers, this investment is a further demonstration of our commitment to delivering a sustainable and environmentally friendly bus network, while supporting TfL's long-term vision for London."
Jean-Marc Gales, CEO at Wrightbus, said: "Our continued partnership with Arriva is hugely significant in the drive to zero-emission public transport.
"Seeing the impact our fleet is having on communities is incredibly gratifying and we must continue to strengthen the case for further support for zero-emissions transport to ensure net zero targets are met.
"We are consistently at the forefront of zero and low-emission travel and look forward to progressing future orders with bus operators across the globe.
"We can't wait to see even more of our buses in operation, which will help passengers enjoy comfortable and cleaner transport."
The StreetDeck Electroliner is the perfect combination of range and efficiency, maximising power and offering class-leading recharge times.
Official assessments undertaken at UTAC using the ZEMO-accredited Ultra Low Emission Bus (ULEB) test showed that the Electronlier achieved a result of 0.69 kWh/km - around half the energy consumed by its closest BEV double deck UK rival and significantly better than all other BEV single deck bus results published on the ZEMO website.
Not only is it more energy-efficient, but according to ULEB calculations, the StreetDeck Electroliner also produces an impressive 86% less CO2 per km than the ZEMO Euro6 Diesel baseline.
Wrightbus has been at the forefront of the movement to decarbonise public transport across the UK and Ireland with the Electroliner alongside its world-first hydrogen double deck, the StreetDeck Hydroliner.