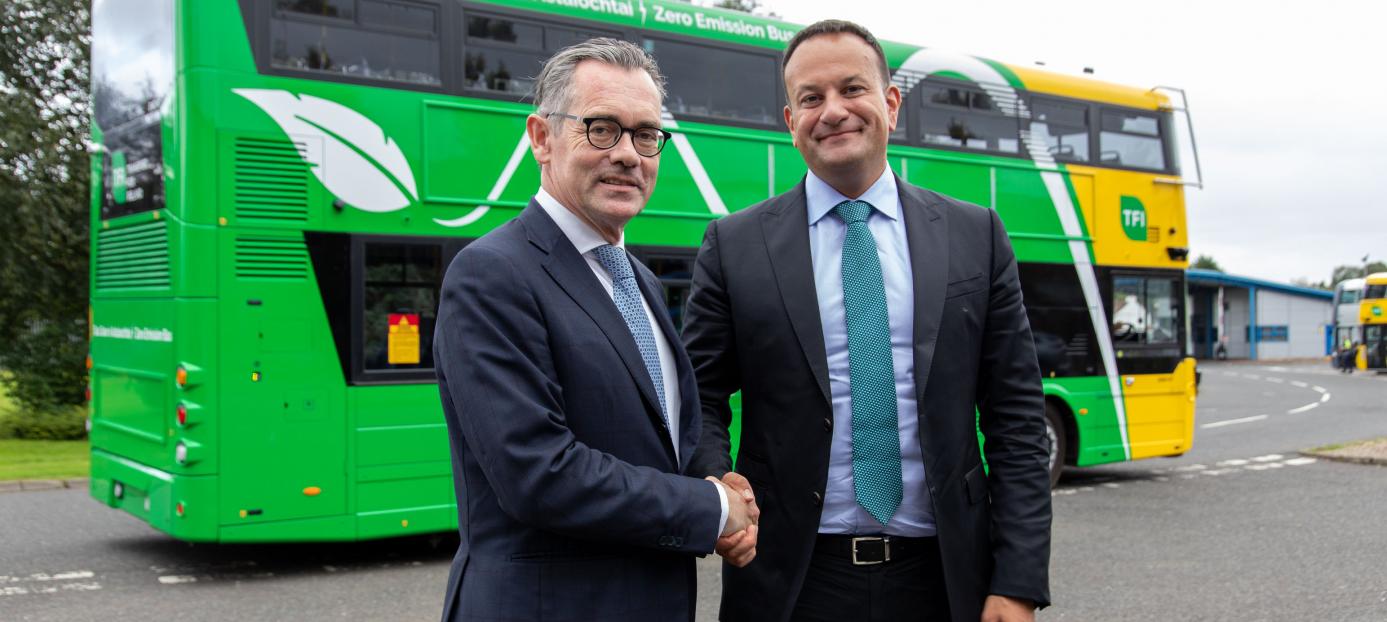 Taoiseach Leo Varadkar pays tribute to pioneering zero-emissions bus manufacturer Wrightbus in visit to Ballymena HQ
Taoiseach Leo Varadkar has praised the innovation of bus manufacturer Wrightbus in a visit to the company's Ballymena headquarters.
The Taoiseach was given a tour of the factory in Northern Ireland by Chief Executive Jean-Marc Gales and shown the innovation behind the world's first hydrogen double deck bus and the world's most efficient battery electric double deck.
Last year, Ireland's National Transport Authority announced an order for 120 double-deck battery-electric buses as part of a framework agreement which provides for the procurement of up to 800 zero-emission battery-electric buses over a period of five years.
The Taoiseach was also given an update on plans to build an innovative multi-million pound clean hydrogen production facility at Ballymena.
The Taoiseach said: "Wrightbus is a very impressive company which is leading the way with climate change and energy security. I'm very impressed with the way they are turning the climate change challenge into an opportunity and going for a moonshot of their own with electric and hydrogen powered buses and coaches.
"I commend Wrightbus for its plans to develop a hydrogen production facility in Ballymena. Hydrogen is likely to play a part in the energy security of the whole island of Ireland."
Jean-Marc Gales, CEO of Wrightbus, said: "We were delighted to welcome the Taoiseach to Ballymena and to have the opportunity to speak to him about our innovations in both zero-emission transport and hydrogen production and supply.
"We already have a great working relationship with the Irish government and bus operators, and we look forward to this continuing long into the future.
"Our buses are already reducing emissions across the UK and Ireland. We have ambitious plans for Europe and welcome the opportunity to speak to people at the very top of government about our ambitions."