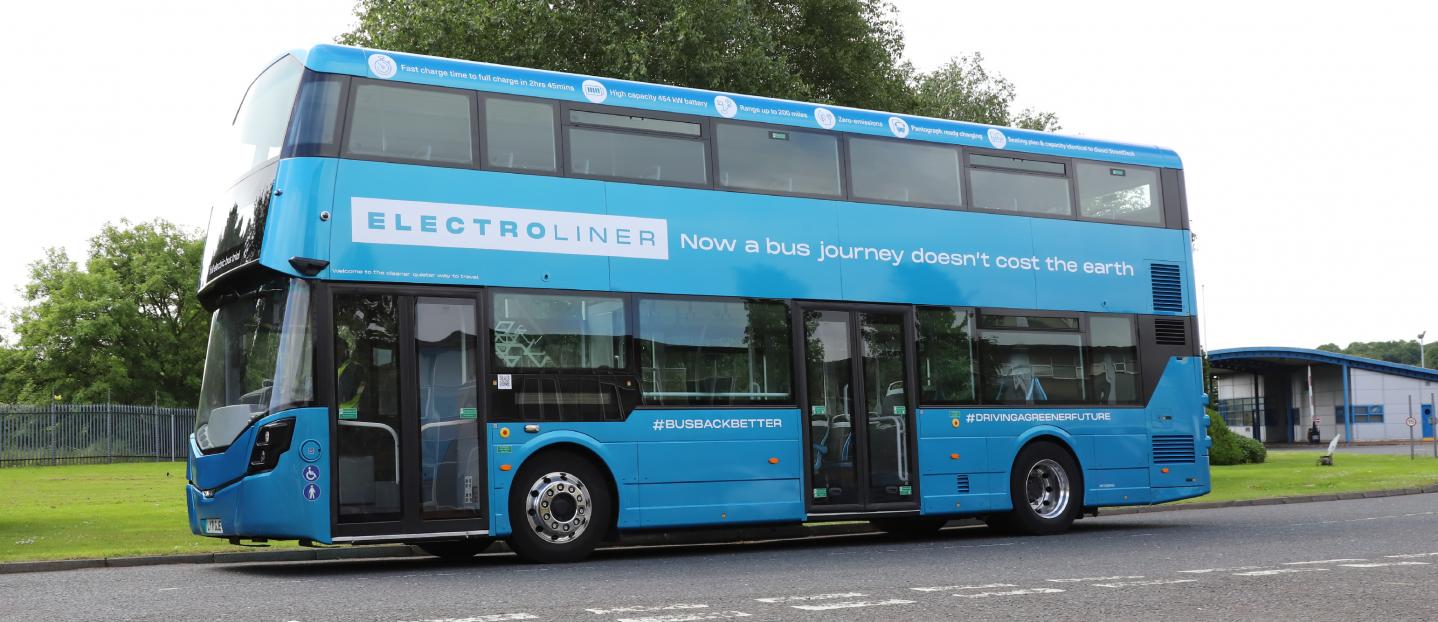 Preparations gather pace for roll out of Wrightbus's zero-emission buses in Oxford
A battery-electric bus manufactured by Wrightbus will be arriving in Oxford this weekend ahead of a roll out of more than 100 of the vehicles across the city.
The Oxford Bus Company (OBC), part of Go-Ahead Group, has ordered 104 zero-emission buses from the Northern Ireland-based manufacturer as part of efforts to deliver an all-electric bus fleet in the city.
In preparation for the roll out, one of Wrightbus's demonstrator buses will be arriving in Oxford on Saturday to allow the OBC to finalise its driving training programme.
Drivers are to receive hands-on sessions on how to operate the new buses. They will be learning about the unique features and technical aspects of the vehicles, allowing them to navigate the bus routes confidently while maintaining the highest safety standards. 
The order is made up of 99 StreetDeck Electroliners - the world's most efficient double deck battery-electric bus - and five GB Kite Electroliner single decks.
All of the vehicles, which are being manufactured in Northern Ireland and will be operated by the OBC, will be fitted with free customer WiFi, at-seat USB chargers and audio-visual next stop announcement systems.
Jean-Marc Gales, CEO of Wrightbus, said: "As a market leader in sustainable transport and zero-emission technology, we are proud to be delivering an order of our electric buses to yet another city in the UK.
"Our buses have a vital role to play in decarbonising public transport and in enabling operators, local authorities and governments to meet their carbon reduction targets.
"We are delighted to assist the Oxford Bus Company in their commitment to offering zero-emission public transport in the city which will ensure a quieter, more comfortable ride for customers."
Luke Marion, Oxford Bus Company Managing Director, said: "We are working closely with Wrightbus as part of our preparation for our transition to electrification.
"Taking delivery of the demonstrator vehicle is a key part of ensuring our drivers and engineers are given the best possible training ahead of the delivery of the first electric buses later in the year.
"It is another exciting step forward in our ambition to deliver an all-electric city fleet which will improve air quality and make bus travel an even more attractive option for people to travel around Oxford."
Official assessments undertaken at UTAC using the ZEMO-accredited Ultra Low Emission Bus (ULEB) test showed that the Electroliner achieved a result of 0.69 kWh/km - around half the energy consumed by its closest BEV double deck UK rival and significantly better than all other BEV single deck bus results published on the ZEMO website.
Not only is it more energy-efficient, but according to ULEB calculations, the StreetDeck Electroliner also produces an impressive 86% less CO2 per km than the ZEMO Euro6 Diesel baseline.
Founded in 1946, Wrightbus has been at the forefront of public transport for more than 75 years and is still based in the heart of Ballymena, Northern Ireland.
It has also been at the forefront of the movement to decarbonise public transport across the UK and Ireland with its world-first hydrogen double deck, the StreetDeck Hydroliner, alongside the Electroliner.