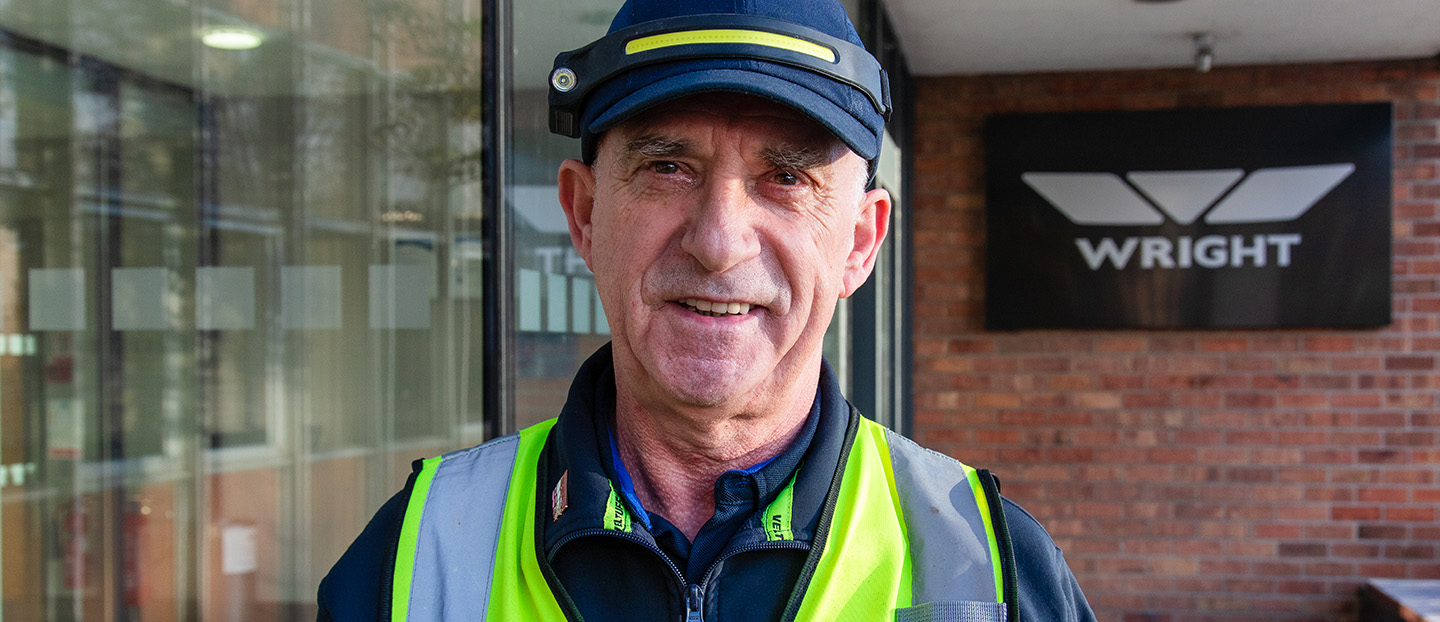 A man who has spent more than three decades at bus manufacturer Wrightbus is to become a foster carer at the age of 64.
Known as 'Captain', Norman Stephens is stepping down from his position with the Northern Ireland-based company and has decided to focus on caring for children.
Norman and his wife Sharon will be following in the footsteps of their daughter to become foster carers.
Norman said: "For the past three years, my wife and I have been supporting our daughter, son-in-law and their family as they foster children who need safe and loving homes.  
"We have seen the real difference they have made in the lives of the children they have been fostering - it has been amazing to watch.  
"They have been telling us about the massive shortage of foster carers throughout Northern Ireland and we thought that we could also foster and make a difference.  
"It feels like the perfect next stage in my life after a successful and fulfilling career with Wrightbus. I now get to find success and a sense of fulfilment in a completely different way, helping children and young people who really need it."
Norman joined Wrightbus in 1989 and has held a number of roles including a painter and quality inspector.
"Over the years I've been given lots of support and training to enable me to develop both personally and professionally," he said.
"I made lots of great friends over the years and also made lots of great memories. 
Now at the age of 64 I am ready for a new chapter in my life."
His manager, Robert Gibb, thanked him for his loyal service and wished him well for the future. 
"Norman quickly proved himself to be not only a highly-skilled worker, but a reliable and hardworking member of the team with a desire to excel," he said.
"He moved on to take up posts as a front line manager and his current role of quality inspector. 
"He has always worked to the highest of standards and inspires the teams around him to do the same. 
"Known as 'Captain' by the underbody paint squad, Norman certainly lives up to the name with the support he gives to management and every member of the team. He has a great relationship with everyone in paint and finishing, and makes sure everyone works together to meet and exceed customer expectations.
"Over the years Norman has shown outstanding dedication to his role and to the company. 
"He has helped lay the foundations for our company's success, as we continue to build our team on the shoulders of employees just like him.
"He is the 'wee' man who leaves big shoes to fill. He deserves every joy in his retirement - we wish him well for the next chapter of his life and thank him for everything he has done in the years he has spent in Wrightbus."
Wrightbus recently took on its 1,000th member of staff, just three years after the company was bought out of administration by green pioneer Jo Bamford with just 56 people on the books.
The turn-around comes during another outstanding year for the firm, in which it has secured a series of high-profile deals in the UK and overseas.
The company has launched a recruitment drive as it looks to the future of zero-emission transport and is planning to host its latest recruitment evening on Thursday, February 2, from 5.30pm to 8pm.
Visitors will have the opportunity to discuss job opportunities and the company's ongoing plans for the future.
There will also be a chance to have a tour of the factory in Ballymena and meet departmental managers and the HR team.
People can register online via Eventbrite. A link can be found on its social media channels or by emailing [email protected].
The company also has an on-site recruitment office, which is open Monday to Thursday from 3pm-5pm and Friday from 12pm-1pm. No appointment necessary.