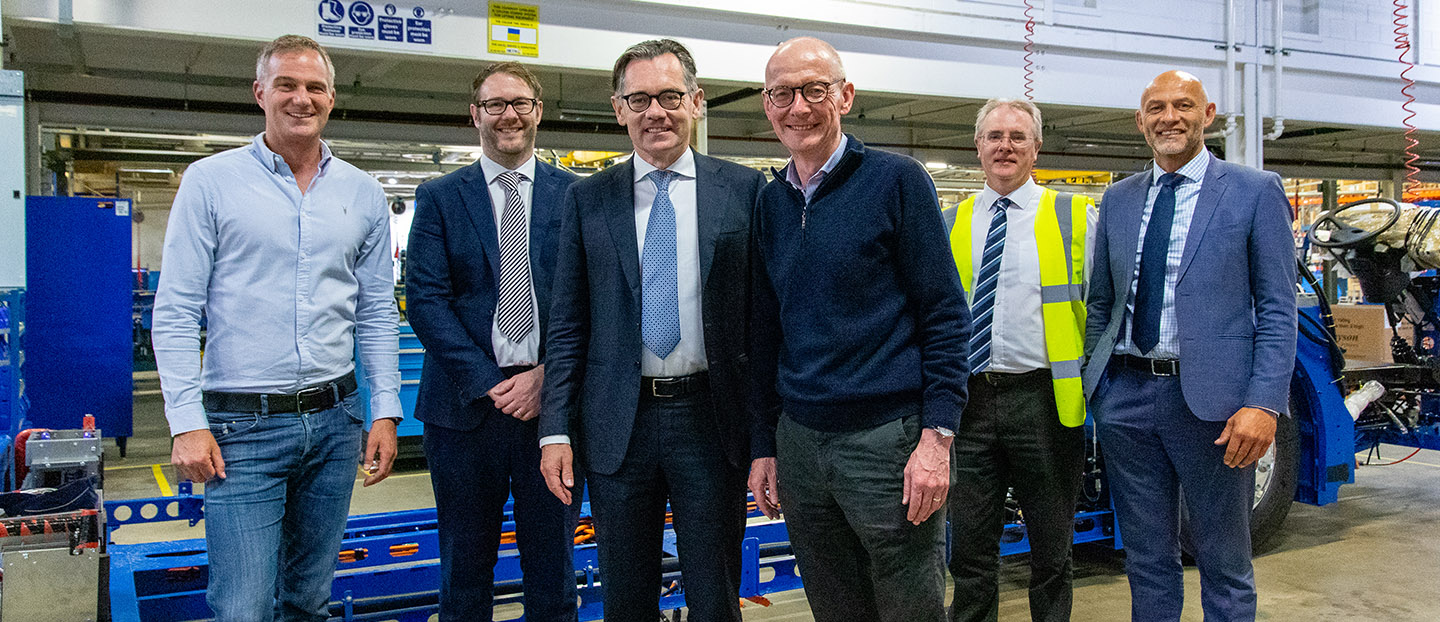 Labour Treasury Chief hails 'huge potential' of hydrogen as he visits clean transport pioneer Wrightbus
Hydrogen has a 'huge potential' to clean up public transport, Shadow Chief Secretary to the Treasury Pat McFadden said, on a visit to zero-emission pioneers Wrightbus.
Mr McFadden was accompanied by Shadow Northern Ireland Secretary Peter Kyle, who praised the Ballymena firm for its innovation in the green energy sector following his own visit last month.
During a visit to the Wrightbus headquarters, Mr McFadden was able to see first-hand the technologies behind its groundbreaking buses, including the world's first hydrogen double deck bus and the world's most efficient battery electric double deck.
Mr McFadden and Mr Kyle met with members of Wrightbus's senior management team, including newly-appointed Chief Executive Jean-Marc Gales, a seasoned executive in the global automotive industry.
Mr McFadden said: "The UK has to make the most of the energy transition so that good jobs can be created in every part of the country.
"The pioneering work Wrightbus is doing on developing hydrogen buses has huge potential to bring cleaner and greener public transport to local areas, and to create good work for those involved in the design and making of these buses.
"The transition is coming. The question is how we make the most of it. I look forward to learning more about the production process and hearing about the company's plans for the future."
Mr Kyle said: "I'm delighted to be visiting Wrightbus again with Labour's Shadow Chief Secretary to the Treasury Pat McFadden to showcase some of the fantastic renewable energy innovation that is happening here in Northern Ireland.
"Labour has a mission to make the UK a clean energy superpower and, as Wrightbus's Ballymena operation demonstrates, NI has huge potential to lead the way."
Wrightbus launched its first zero-emission bus - the Streetdeck Hydroliner - in 2020 in Aberdeen, with the fleet entering passenger service in January 2021.
It is also behind the world's most efficient double deck electric bus - the Streetdeck Electroliner, as well as single deck battery electric and hydrogen electric buses.
Earlier this year, it announced plans to develop a green hydrogen production facility at its Ballymena factory.
The proposal is being made in partnership with a sister company, Hygen Energy, and the new facility would help create a reliable source of fuel for those buses and other hydrogen-powered vehicles.
Mr Gales said: "It was fantastic to meet the Shadow Chief Secretary to the Treasury and welcome back the Shadow Northern Ireland Secretary to Wrightbus's headquarters and show them the world-leading work we're doing to further enhance sustainable transport options.
"We are at the forefront of hydrogen and zero-emission technology and, as such, are committed to providing more attractive and greener public transport options for service users.
"We are immensely proud that the buses we are manufacturing in Northern Ireland are helping to lead the way globally."
2023 has been hugely successful so far for Wrightbus following a string of new orders including 48 buses for Stagecoach for use in London and 117 vehicles for First Bus across the UK.
Wrightbus took on its 1,000th member of staff last year - just three years after being bought out of administration by green pioneer Jo Bamford, when there were just 56 people on the books.
It now employs more than 1,100 people, and is looking to recruit hundreds more, including 230 production roles, more than 100 support roles and 50 apprentices.