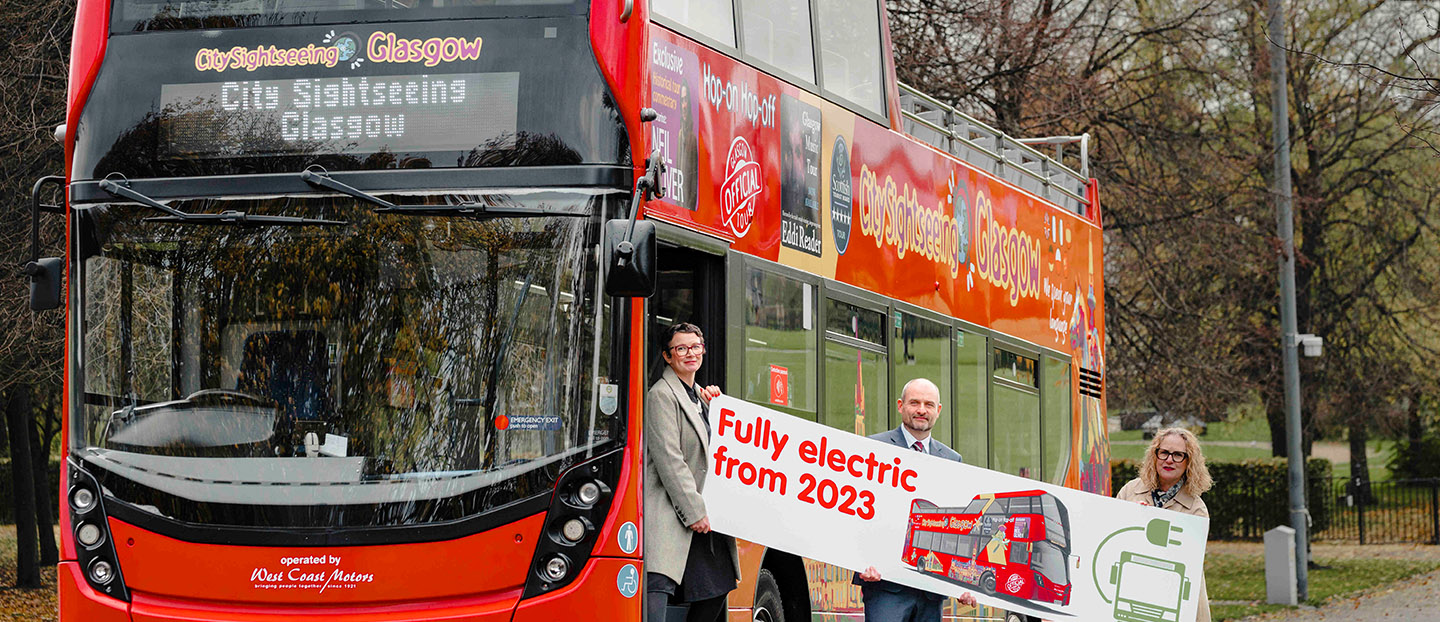 GLASGOW OPEN TOP BUSES WILL SOON BE ONE OF THE GREENEST TOURS IN THE WORLD 
City Sightseeing Glasgow has announced it will launch a full fleet of brand new electric open top buses, making it one of the world's greenest tours. 
The open top tour, with its iconic red buses, serves the city's key attractions including Glasgow Cathedral, Glasgow Green, Clydeside Distillery, Riverside Museum, Glasgow University, The Hunterian and Kelvingrove Art Gallery and Museum. 
The Glasgow tour company is part of the City Sightseeing Worldwide franchise, a global company delivering open top tours in just under 100 cities across the world; including Edinburgh, London, Dublin, Berlin, New York, Dubai and Johannesburg.  
The launch of 10 new electric buses will make Glasgow the first ever City Sightseeing operator to operate a full fleet of electric vehicles. It is also the first ever Scottish open top tour to commit to full electric and one of the first in Europe. 
The vehicles are a £4,500,000 investment and includes funding from the Scottish Zero Emission Bus (ScotZEB) Challenge Fund.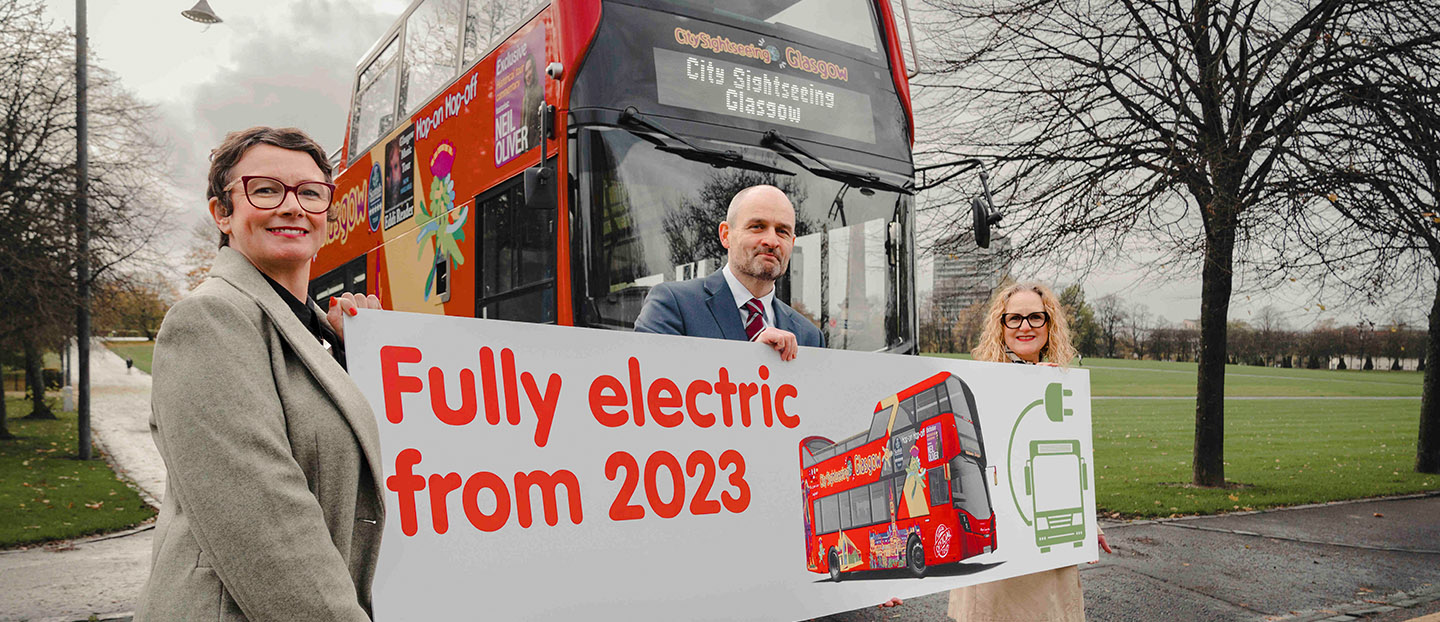 Sharon Morrison, Communications Director at City Sightseeing Glasgow, said: "We are excited to be introducing a full electric fleet to our open top tour in Glasgow. It's great for the city's green credentials and reinforces our commitment to meeting Scotland's climate change goals. 
"Whilst we already offer one of the most sustainable ways for visitors to enjoy the best of Glasgow, the move to full electric means we can showcase our city's wealth of cultural heritage, and of-course its dear green spaces, with zero environmental impact on our city, its residents and visitors. 
"As well as the environmental benefits of operating an electric fleet, the buses will offer an improved customer experience, with a much smoother and quieter journey for those enjoying Glasgow's story." 
Glasgow Life Chief Executive, Susan Deighan, said: "This investment in a fleet of electric City Sightseeing Glasgow buses is a great example of how our tourism industry partners are driving forward climate-change action.  
"Boosting their green credentials will help Glasgow further enhance its reputation as a leading international destination for responsible tourism and achieve its aims of becoming one of Europe's most sustainable cities. 
"Promoting the sustainability of the visitor experience Glasgow offers not only supports tourism, it also greatly benefits the people of our city, our economy, and of course our environment." 
Ivan McKee, Minister for Business, Trade, Tourism and Enterprise, said: "Today's announcement from City Sightseeing Glasgow is great news for Glasgow and means visitors can enjoy exploring the city of Glasgow in sustainable and environment friendly manner. 
"We are committed to becoming a world leader in 21st century tourism and have set world-leading climate targets which include a 75 per cent reduction in greenhouse gas emissions by 2030 and achieving net zero by 2045. By working together, we can help Scotland become a world-class destination, and the best destination for responsible, sustainable tourism." 
Tom Greenshields, Head of Business Development at Wrightbus, said: "We are absolutely delighted to be supporting the city of Glasgow's sustainability mission with our StreetDeck Electroliner Open Top buses. This 10-bus order will be one of the first City Sightseeing fleet in the world to be fully electric, which demonstrates Glasgow's commitment to helping to reduce emissions. 
"We feel proud to be working alongside City Sightseeing Glasgow and West Coast Motors, who operate the city's Sightseeing buses, as their objectives very clearly align with ours to help play a part in the UK's decarbonisation ambitions." 
Enrique Ybarra, Founder of City Sightseeing Worldwide, added: "Sustainability is a goal that the entire tourism industry shares and City Sightseeing Worldwide is delighted City Sightseeing Glasgow, through this pioneering development, has become one of the benchmarks for the entire sightseeing tour sector. We will continue to work with the same awareness to extend this example to the rest of our global network." 
The electric vehicles are expected to be introduced to the tour in July 2023. 
Pictured: Sharon Morrison (Communications Director at City Sightseeing Glasgow), Tom Greenshields (Head of Business Development at Wrightbus) and Susan Deighan (Glasgow Life Chief Executive)