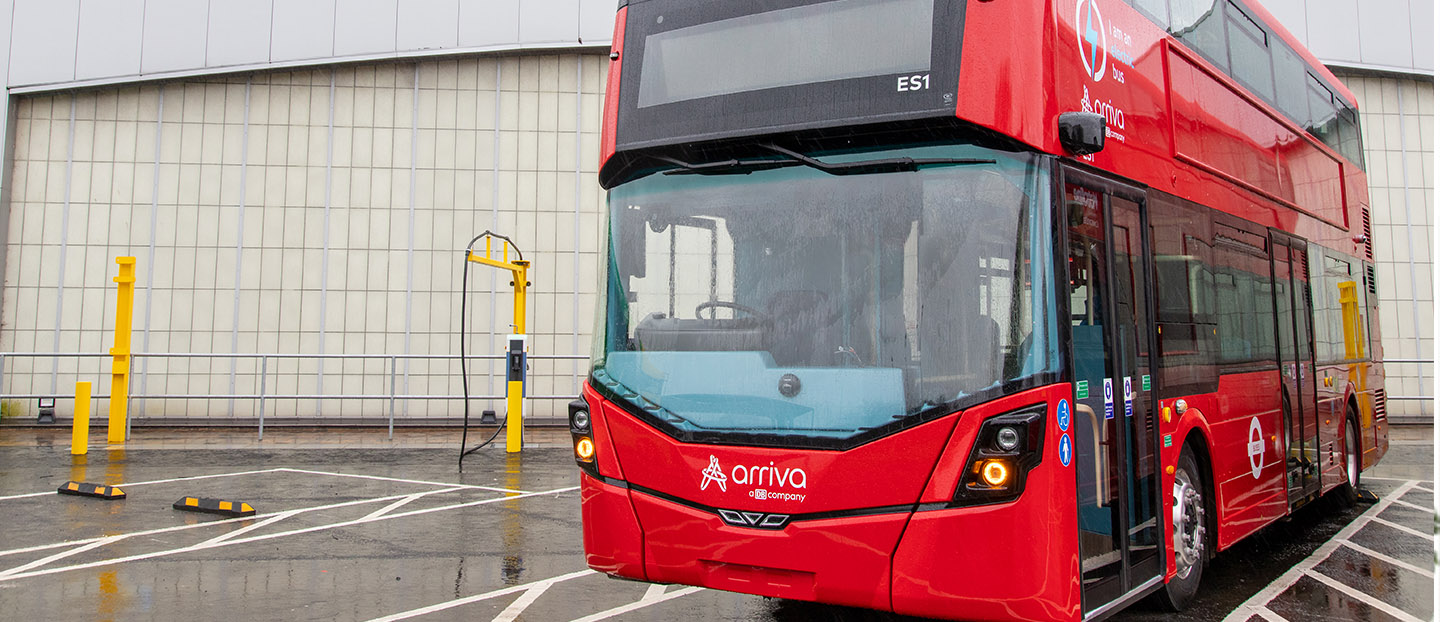 Arriva London is proud to welcome 50 new zero emission electric vehicles into operation this year, further ensuring their pledge to deliver a sustainable and environmentally friendly bus network. 
The vehicles, manufactured by Wrightbus, include an enhanced specification to benefit customer experience - featuring aesthetically pleasing on board lighting, wood effect flooring, hi-resolution destination blinds, digital customer information screens, and USB charging points. 
Their arrival into Arriva Enfield, Arriva Brixton Tramshed and Arriva Thornton Heath bus garages is the next phase in the Arriva London sustainability plan, with the new buses coming into service between May and September. 
In 2022, Arriva London transformed our Brixton Tramshed operation to full electrification and zero emission buses have been proudly serving Brixton in recent months. 
To ensure the new Wrightbus zero emission vehicles can bring the same environmentally friendly and efficient bus operation to Enfield and Thornton Heath as is already in place across Brixton, an innovative programme of works will begin imminently – managed by Zenobe to complete electrification infrastructure at both depots. 
Arriva London Commercial Director, Graham Davies said: "Welcoming the new Wrightbus electric fleet into our Enfield and Thornton Heath garages, whilst further strengthening our Brixton based fleet, is an exciting milestone in our continued journey to operating a greener, decarbonised bus network across London. We are delighted to once again be working in partnership with Wrightbus and Zenobe on this project to support TfL's long-term vision."
As well as improving the on-board customer experience, supporting sustainability, and delivering cleaner air across North and South London, the new electric fleet also presents unique opportunities to upskill our Arriva London workforce – as our drivers and engineers will be a vital part of the successful rollout and ongoing management of the 50 buses. 
Ian Gillott, Managing Director (Parts and Services) at Wrightbus, said: "It has been a real team effort between Wrightbus and Arriva to deliver these exciting and significant projects. 
"It is fantastic to see Arriva taking this vital and progressive step to decarbonise public transport to help the UK hit its ambitious net zero targets. It also illustrates our ambition to be at the forefront of the zero-emission drive in cities, towns and rural areas across the world. 
"Wrightbus is at the forefront of this technology. Indeed, the StreetDeck Electroliner BEV is the world's most efficient double deck battery-electric bus. Tests conducted by vehicle testing group UTAC showed the Streetdeck consumed around half the energy as its closest BEV double deck UK rival. 
"Not only is it more energy-efficient, but according to Ultra Low Emissions Bus Scheme (ULEB) calculations, the StreetDeck Electroliner also produces 86% less CO2 per km than the ZEMO Euro6 Diesel baseline. 
"All of the buses will be manufactured and assembled at our Ballymena factory, which means support for jobs in Northern Ireland, and wider across the UK through our domestic supply chain." 
And, for Transport for London, this is yet another positive step towards the realisation of the Mayor of London's plans, to significantly reduce/remove emissions across bus routes. The fleet currently has around 900 zero emission buses across the network. 
Louise Cheeseman, TfL's Director of Buses, said: "The addition of 50 new zero emission electric vehicles is a welcome inclusion to London's rapidly growing greener bus fleet. 
"These new buses will not only play a key role in helping to clean up the capital's toxic air and tackle climate change, but will also have new features to improve customer experience including digital information screens and USB charging points. 
"The buses were built in the UK, helping British manufacturing and the economy thrive, once again placing the iconic London bus at the vanguard of a growing industry."
For Zenobē, the international EV fleet electrification specialist and innovative partner in ensuring our garages are electric fleet ready, being a part of this new vehicle roll out is a further expansion of a strategic partnership to deliver a net zero emission fleet. 
Steven Meersman, Co-Founder and Director at Zenobē, said: "The addition of 50 Wrightbus zero emission vehicles is another strong testament of Arriva London's commitment to the decarbonisation of transport in the capital. 14 of these vehicles will be out on the roads as part of our ongoing partnership with Arriva Brixton Tramshed. Through our agreement we guarantee to deliver the charging required to the fleet of Wrightbus vehicles and support the performance of the batteries on them, and we're pleased to extend this service to the new vehicles.
"At Arriva Enfield and Arriva Thornton Heath we will design and build charging infrastructure at both depots, including the integration of our smart charging software to ensure Arriva London's rapidly growing fleet is optimised to be both economically and environmentally sustainable. 
"We are also pleased to incorporate Wrightbus vehicles into our technology agnostic charging optimisation software for the first time, demonstrating its agile interoperability with multiple vehicle and hardware types."